Big Ten Conference Outlook for 2009
With college football camps only two weeks away, I wanted to take a look at how the Big Ten will be shaping up this season.
The Favorite: Ohio State
Surprise, surprise. Another year and the same team remains the cream of the crop in the Big Ten. Ohio State had a fairly "regular" year by their standards in 2008. So with the loses of the likes of Beanie Wells, James Laurinaitis, Marcus Freeman, and others, can Ohio State really stay on top? Yes and one big reason is Terrelle Pryor. Pryor showed great development last season with a combined 20 TD's and only 4 INT's. He also sported a passer rating above 100 in each regular season game except against Ohio, where he only threw two passes. Look for Pryor's sophomore season to as much a breakout season as Tim Tebow's sophomore campaign.
Sure he may not as many touchdowns, as Jim Tressel would rather not see #2 take on linebackers like Tebow, but his impact will be very similar. Sure the absence of Beanie Wells poses the question of whether their run game will be as effective but it will be. Daniel "Boom" Herron and Brandon Saine will hold down the backfield, and with a quarterback that can run by really anyone, I don't see the Buckeyes being affected too much. Ohio State did lose some key players on their defense, but like any football powerhouse, those voids will be filled very quickly. DE Thaddeus Gibson led the team in sacks last season as a sophomore and should be ready for another big season. Safety Kurt Colman will be the senior leader on defense and will make sure the losses from last year's team don't get in their way of another Big 10 title. However, if there is one way that Ohio State doesn't live up to expectations this season, it will be because of their inexperience on defense.
The Contender: Penn State
Admittedly, these two teams could be flipped, especially since this year's matchup is in Happy Valley and will more than likely decide who wins the Big Ten. With QB Daryll Clark and RB Evan Royster returning, Penn State's offense will be solid. Clark had a great season last year taking over the Nittany Lions by throwing for 19 TD's and only 6 INT's. You would think that this year would only come with more success, but I am a little hesitant that the losses of WR's Derrick Williams and Deon Butler could really affect the Nittany Lions' offense. RB Evan Royster had the third most rushing yards in the Big 10 last season with 1,236, trailing both Shaun Greene and Javon Ringer.
However, with the departure of Greene and Ringer to NFL, Royster looks to be the premiere back in the conference and may make up for the losses at the receiver position. The return of LB Sean Lee, who missed last season due to injury, will definitely add to a continuously solid Penn State defense. The loss of Aaron Maybin and his 12 sacks last season will hurt, in addition to the departure of Anthony Scirrotto, but the Penn State defense should be just fine. With all this being said, I still think that Ohio State is too strong and will prevail over Joe Pa and company.
The Dark Horse: Illinois
Many experts have Michigan State slotted here for a couple of reasons, one being they don't have Ohio State on their schedule. However, without Javon Ringer carrying the load anymore, I'm not sure Michigan State can be the same team they were last year, let alone better.
Now the Illini on the other hand have nowhere to go but up. The question is how far up after a terrible 2008 season finishing 5-7. The fact is that Illinois could compete for the title, or be middle of the pack, which is really the true definition of a dark horse. Personally, I really like the Illini's chances. QB Juice Williams is back for his fourth and final season at the helm. Juice showed signs of greatness in 2008 (22 TD's), the only problem being he was also down right awful at times (16 INT's).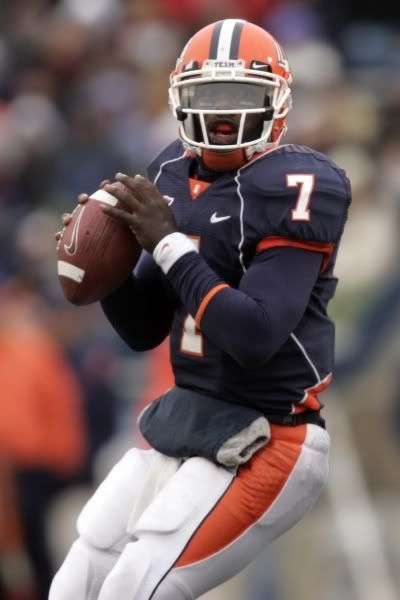 Another reason for Illinois' struggles last year was their inability to get WR Arrelious Benn the ball consistantly and more notably, in the end zone. There is no excuse why this good of a wide receiver has only amounted to five scores in two seasons. Look for new Offensive Coordinator Mike Schultz to take the offense to the next level this season and find a way to get a potential All-American WR the ball on a consistent basis. Juice will need to cut down on his mistakes and show the maturity of a four-year starter, but the big question mark is their defense. Their defense is fairly inexperienced, especially at the linebacker position. The losses of LB Brit Miller and Corner Vontae Davis will hurt, but if the defense can find a way to make it happen, Illinois will be a very dangerous team in the Big 10 in 2009.
The Standings:
1. Ohio State
2. Penn State
3. Illinois
4. Michigan St
5. Iowa
6. Wisconsin
7. Northwestern
8. Minnesota
9. Michigan
10. Purdue
11. Indiana