First posted by Stephan at Inside The Shoe

On a rainy afternoon in Columbus, Ohio, Ohio State got its man.

Urban Meyer was announced as the 24th head coach of The Ohio State University at a press conference Wednesday. 
After a tumultuous eleven months or so, Buckeye fans finally had a reason to smile, as Meyer said all the right things to make you believe that Ohio State football will be national title contenders again sooner rather than later. Athletic Director Gene Smith gave an opening statement before handing the podium over to the former Bowling Green, Utah and Florida coach. 
Smith said many good things about Meyer, calling him a great football coach, but more importantly, a great person.  Smith thanked Luke Fickell for all that he has done for the team, adding that Fickell will stay on the staff under Meyer.  "This is the right time," Smith said, "for Urban Meyer to lead our football program."
While Meyer's name had been thrown around the Ohio State job for months, both Smith and Meyer confirmed that the first contact they had was on November 20, 2011.  They first met in person to talk about the opening on Wednesday, Nov. 23, Meyer was presented with an offer to become head coach on Sunday, Nov. 27, and he accepted the offer this morning, Nov. 28.

Meyer came to the podium with a short statement in hand before he would answer questions.  Meyer understands that Ohio is passionate about Ohio State football and he said the "objective is to make the state of Ohio proud."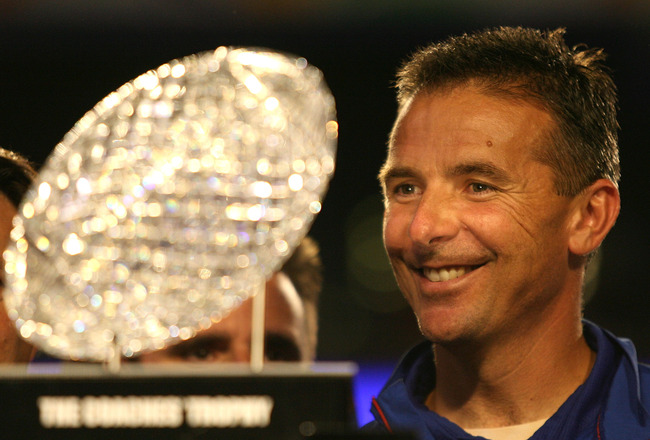 Meyer hopes to bring another one of these to Ohio State
Several times Meyer mentioned his passion for Ohio State and the memories that it brought to him.  He told of how, when he was a graduate assistant under Earle Bruce, he would sneak out of the locker room as kickoff approached, just to see the band come on to the field.  Meyer said he hadn't been back to Ohio Stadium since he was on the coaching staff in the late 1980s until the opening game of the season against Akron when he was in the booth for ESPN.  Before the broadcast of that game, Meyer said that he had to wipe away the tears as The Best Damn Band In The Land marched onto the field. 
Few details were released about Meyer's staff, but he let it be known that he want the best assistant coaches in the country.  A key member of his staff will be current head coach Luke Fickell.  Meyer said he has not determined what Fickell's title will be, but that it will be a significant title, and that Meyer had "no doubt I wanted him to be a part of this team."
Meyer mentioned several times during his press conference that he will find a balance between work and family, a balance that was thrown out of whack during his last few years in Gainesville.  Meyer got the approval of his family, first signing a contract with them, before signing one with Ohio State.  He was convinced he was done coaching just one year ago when he stepped down at Florida, but mentioned that once the season came around, he started to get that twinge to coach again.  "I didn't realize I'd miss it so bad," Meyer said.
Meyer's health was also a cause for concern when he stepped down last year, but he insists that he is back.  "Health-wise, I feel fine," Meyer said, "I feel fantastic."
If you watched the press conference, you could tell that Urban Meyer is ready to get to work with Braxton Miller.  Miller had a very good freshman season, but there is plenty of room to improve.  Meyer said that meeting Braxton Miller before the press conference was the highlight of his day, claiming that he is "real excited" to get to work with the young quarterback.  Meyer could not put into words the excitement he felt when asked about getting to coach Miller and the rest of this team.
Braxton Miller could thrive under Urban Meyer's offense
Buckeye Nation is thrilled to have Urban Meyer back in its corner, but the coach may be more excited than anyone else.  There were several times during his press conference where he could not find the words to use because of his excitement.  This is a great hire by Ohio State and, as Urban Meyer put it: "It's great to be home."