On Monday B1G fans will park in front of the couch to watch the annual make-or-break day for the conference. Most years this includes a couple matchups with second-tier SEC teams and culminates with a showdown against the Pac Ten's best in the Grandaddy. This year adds another matchup, and one that's a lot harder to prognosticate: the 9-3 Nittany Lions play the 12-1 Houston Cougars of Conference USA.
Entering the last game of the season each team was in pretty good position. Penn State sat at 9-2 and was playing for a bid to the inaugural Big Ten Championship. Houston was at 12-0 and playing to both win their conference title as well as a bid to their conference's first-ever BCS bowl. Two painful losses later, both teams precipitously tumbled through the bowl pairings to give the Ticket City Bowl a rare matchup between two ranked team
People consider player emotion to be a factor in college football moreso than most other sports, and that is probably most manifest in bowl games. The student-athletes that will suit up on Monday have gone through a rollercoaster of expectation vs. reality since August, and the amount of enthusiasm, disinterest, anxiety, or confidence they've brought to their preparation and practice in the last month has as much bearing on the outcome as their talent or coaching. Really, I think because the teams' competition and results are so hard to compare that taking a look at their mentality going into the game maybe a little more interesting than usual.
So I'll take a look at what each team has gone through this season and what they bring to the table on Monday, and we'll see who has the edge in the Ticket City Bowl in Dallas.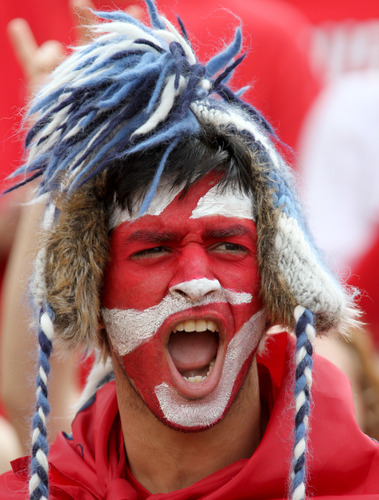 Not sure if the hat makes this dude awesome or completely f-ing awesome.
#19 (BCS) Houston Cougars
Heading into the season:
2010 was suppose to be the year for Houston, lead by star QB Case Keenum, as they were picked to win their conference. Keenum had a season-ending injury in just the third game, however, and the team ended up with a disastrous 5-7 record. Keenum was granted a sixth year of eligibility in the offseason and his return meant another preseason-favorite prediction for Houston in CUSA. Despite having a 103-ranked defense in 2010, Houston's offense was expected to steamroll through their schedule...
Season Results:
...And steamroll it did. Twelve straight wins, the first unbeaten regular season in school history, had the Cougars in the CUSA championship game with the #1 total and scoring offense in the country. While their competition had been suspect, they managed to kick most of their tomato cans like tomato cans should be kicked, a la putting up 73 points on opponents...twice. If they had won the championship game they would proceed to not just their team's but their conference's first-ever BCS bowl appearance.
Unfortunately for then-#6 Cougar fans, Southern Miss held them to nearly half their season average in points in a lopsided 49-28 Houston loss. Keenum was effectively out of the Heisman running, Houston absolutely out of the big time bowls.
Post-Season Developments:
The fun didn't exactly end there, either. Head coach Kevin Sumlin bolted Houston for the Texas A&M job early in December. On December 22nd, Houston made the move to appoint in-house candidate Tony Levine as permanent head coach in an effort to keep some continuity within the program.
-
Hmm, that kind of turned into a sad story at the end, didn't? I'm sure recapping the last couple months for Penn State will have a happier endin-
/hides under kitchen sink crying that daddy is gonna kill Ralphie when he gets home
There can be only one (color-out fanbase thing).
#22 (BCS) Penn State Nittany Lions
Heading into the season:
Penn State didn't have nearly the same lofty expectations going into the season. There was no real reason to think that the QB position would improve, and the defense was coming off it's "worst" season in a decade. Most outsiders capped the Nittany Lions at 8 wins as an also-ran in it's division at best; optimistic fans hoped for 9 or 10 and maybe a couple lucky breaks to get into the Big Ten title game.
Season Results:
Through September and October, at least, Penn State played according to expectations. Record-wise they won every game except for Alabama and otherwise beat teams that they had no business losing to, other than a somewhat-surprising win over Iowa. In those months, though, it was just how bad they looked in their wins that had people avoiding any 8-0 Penn State bandwagon like the plague. The defense was very good but not elite, and able to keep Penn State in any game. The offense was pretty bad or sometimes just effective enough to be mediocre, but always able to keep opponents like Temple and Indiana in a game until the very last possession. The rotating QB system was, from an objective standpoint, utterly atrocious.
Then: The Scandal. In a few days the relationship between Penn State football and the planet Earth was quite obviously changed. Fans' expectations of what a "successful" season meant were out the window, but it's difficult or impossible to tell how the players' expectations changed. A close loss to Nebraska at home was understandable, and a big win over rival Ohio State in Columbus was the one really great moment to take away from this season.
And then, similar to Houston, the remaining hopes of having any kind of memorable football season were crushed in the Nittany Lions' last game. Wisconsin is a great team, Camp Randall is a great stadium, and then you throw in some penalties and other bad breaks and it was just about the biggest beat down Penn State has received since before I was a freshman in 2002.
Post-Season Developments:
Hmm, so Penn State had already fired their head coach, so that doesn't count as post-season. But how about a few other things that just might reflect player's mentalities going into the bowl game:
- Upon first learning their bowl destination, the players had a conversation with the athletic director about, well, not wanting to go (From Penn State's student newspaper, The Daily Collegian):
"We had a lot of talks about that," [Junior fullback Michael] Zordich said of the displeasure regarding the bowl bid. "It had nothing to do with where we were going. It was just why we were going there. That's what a lot of the guys had a problem with."

Barham said there were a lot of players who didn't had "anger of the moment" and initially wanted to elect not to play in Dallas.
Fortunately cooler heads prevailed, mostly the seniors and coaches who want to go out in a bowl game.
- A few weeks later, though, cooler heads stopped prevailing when starting QB Matt McGloin and WR (and wildcat QB) Curtis Drake got into a physical altercation in the locker room. McGloin seems to have hit the floor and had some kind of seizure, and went to the hospital for treatment. He's currently listed as day-to-day and not expected to play in the game.
Which may be a nice segue into the injury report as of now:
n State

| | | | | |
| --- | --- | --- | --- | --- |
| Player | | Injury | Status/Updated | Notes |
| Rob Bolden | QB | Personal | Ques Mon - 12/27/11 | Bolden is dealing with a "minor" legal issue and is considered questionable for the TicketCity Bowl against Houston on Monday. [He is the expected starter as of 12/29 - Paterno Ave] |
| Shawney Kersey | WR | Personal | Doub Mon - 12/27/11 | Kersey is expected to miss Monday's TicketCity Bowl against Houston due to personal reasons. |
| Derrick Thomas | CB | Academics | Doub Mon - 12/27/11 | Thomas is dealing with academy issues and is not expected to play in the TicketCity Bowl against Houston on Monday. |
| Matt McGloin | QB | Head | Doub Mon - 12/28/11 | McGloin had to be taken to hospital after suffering a possible concussion and seizure during a locker room fight with teammate Curtis Drake on December 17th. He is expected to miss the TicketCity Bowl against Houston on Monday. |
| Curtis Drake | WR | Disciplinary | Doub Mon - 12/27/11 | Drake was involves in a locker room fight on December 17th with teammate Matt McGloin and is expected to miss the TicketCity Bowl against Houston on Monday. |
| Brandon Beachum | RB | Ankle | Doub Mon - 12/27/11 | Beachum suffered a broken left ankle against Wisconsin in Week 13 and underwent surgery on November 28th. He is not expected to play in the TicketCity Bowl against Houston on Monday. |
| Michael Mauti | LB | Knee | out for season - 9/29/11 | Mauti has torn ligaments in his left knee and will miss the remainder of the season. |
| Paul Jones | QB | Academics | out for season - 8/28/11 | Jones will miss the entire 2011-12 season while he deals with academic issues. |

Houston

Player
Injury
Status/Updated
Notes
No injuries to report.
...which makes Penn State's QB situation 1) Rob Bolden 2) Some Dude You Have Never Heard Of, and Houston's 1) Heisman Hopeful and Sixth-Year Player Case Keenum. Draw your own conclusions from this.
But What Does It All Mean?
It's almost impossible to compare the two teams' competition during the season, which makes it really hard to see how they are going to match up unit-wise on Monday. There are a few things that are apparent, though:
1) Houston has a great offense, predicated on an accurate quarterback throwing to good WR's running precise and sophisticated routes. This is something you don't see in the Big Ten this year. Penn State has a very good defense, way better than anything Houston has seen this year. Particularly up front, Devon Still and Co. are something that Houston didn't see in Conference USA this year.
2) Houston's defense is bad. 60th in the country against rough competition. Penn State has a strong running game but probably won't be able to throw to save it's life.
Houston has the tools to get ahead on a couple big strike pass plays, and if it does, Penn State is not equipped to play catchup. Maybe with McGloin they could, but nothing we've seen from Bolden shows us that is possible. If Penn State can use the additional prep time to learn Houston's vulnerabilities and slow them down, though, Penn State is really well equipped to wear them down and bulldoze over them as the game wears on.
So what Penn State team shows up? One that has been crazed on the practice field and absorbing hours of game tape? Or one that asked not to go to the game and has checked out to see who the next coach is? I think Tom Bradley is a great coach, but the kind of shitstorm that has been buffeting this team may be greater than anything that any lame duck coaching staff can manage.
And what about Houston? Maybe 13-1 with a small-time bowl win is still a great achievement for their program. Maybe Case Keenum just wants to go out with a win over a traditional power. Or was the goal BCS-or-Bust all along, and their motivation is gone?
Prediction: For some reason, despite the fact that I know the situations and team are incomparable, visions of the Penn State secondary getting scorched in the 2009 Rose Bowl are dancing in my head. I think Penn State brings more overall to the table than this Houston team, but Houston's strength is the one thing that Penn State is most susceptible to. The Cougars only need a few big pass plays for touchdowns to work out and the game becomes an almost unwinnable one for the Nittany Lions. I think Houston has more to gain by beating Penn State and ending the season ranked than Penn State does. With a head coaching search distracting players that are already uninterested in this bowl game, I just don't see the Nittany Lions bringing the A-game necessary to keep Case Keenum in check. I'm going with a 34-21 win by Houston.
Of course, the real outcome that Penn State fans care about is that of the coaching search, but we'll save that for another post next week.