One of the most requested Power Polls I get is Fast Food. I am sure that is some indictment on the state of the B1G territories, but we'll overlook that for the time being. I am nothing if not a man of the people, but I decided that we should narrow this ridiculous category - that is, fast food - down to the worst version of itself. If you have clicked on this article, you realize that means we are going to the mall to eat. Nothing says self-hatred like watching Illinois-Purdue eating Food Court food. So let's do this thing.
As this week's point of order, there were fourteen of us who ventured to vote. We were consistent at the top and bottom of the poll - no different than any other week obviously - and well, that's all there is to say about that. Same point system as always: 12 points for 1st, 11 points for 2nd, etc. On to the fattiness!
1. Ohio State - 168 Points - 14 FPV - McDonalds
You are the B1G Mac? Well, that's my first terrible tie-in of the piece. It only can go up from here, right? Anyhow, you are the top of the heap right now with more sales wins than everyone else. You're slowly becoming the only recognizable brand in the joint, and when people see you at the food court, they're drawn to the brand. You're playing a good style of football and while there have been a few hit jobs on whether or not you're good for consumption - and screw those guys for not understanding the problems associated with high-calorie, low-grade schedules - you haven't missed a beat.
2. Michigan State - 150 Points - Sbarro
It's not like we all think you are specifically bad, it's just that we often forget about you. Sure, you've been here for a while now, and it's not like any of us can say we haven't been impressed by your Galaxy Class Defense pizza at least once. Still, when push comes to shove, does anyone really think Sbarro is good enough to beat out the other restaurants in the joint? I don't think so. You've developed some good side items - specifically a passing game where the QB actually throws the ball to the receivers and the receivers catch the ball - but you have some weaknesses. You're on the inside track to Indianapolis where you can show us all how great greasy pizza on a paper plate can be.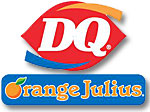 3. Wisconsin - 144 Points - Dairy Queen/Orange Julius
You are a food court staple at this point, and we love you for it. After a miserable day of trudging through the mall - remember, Illinois plays Purdue this weekend... miserable is an apt word in our comparison world - there is nothing better than choosing between a Strawberry Julius, Milkshake, or Eric Melvin Gordon run around the edge past hapless defenders. While your foray into real food has been muted by often-mediocre burgers and bad calls to take a knee, you still seem to be coming out on top at the right time. You might be out of luck on the CCG at this point, but Roses aren't completely out of the question...
4. Minnesota - 122 Points - Chick-fil-A
I'm gonna get hammered for this... Anyhow, you are good, but you might be a little overrated at this point. While those in the hometown swear you're as good as anyone out there, there is an excellent chance that you've just been really good at what you do best. Honestly, though, that's not something to feel bad about either. Being the best chicken sandwich in the Food Court - rather, the best average team in the conference - is probably not such a bad thing considering the subject matter, but fourth? You have a chance to prove yourself in the next couple of weeks. Win the Axe and beat Sparty? Well, then I'll be eating my words.
5. Nebraska - 112 Points - Panda Express
There are times you are pretty impressive. You know, like when the chicken pieces are still fresh and haven't been sitting there for the past hour, the sauce isn't a solid mass, and the rice is actually tender - sort of like when you don't turnover the ball four times in the first quarter. At other times, you are the exact opposite and the fact that you're sitting here at sixth is as much a testament to what we think of the middle of this conference as anything. I'm not sure you were ready for the big time yet anyways, but what is done is done. If you can get your dishes out in short order, you might finish strong, but all chances of Indianapolis are gone.
6. Michigan - 94 Points - Burger King
You are incredibly overrated at sixth right now, but that's okay. Sometimes a name brand, a Whopper, the self proclaimed King, and a sliding placekick holder is all you need to get by. Just keep remembering the good ol' days when you didn't have to deal with all of these upstart fast food joints in the Food Court and look toward the future when all of your current reimagination of items comes to fruition. You have a bright future - in theory - and so long as this thing doesn't explode or give everyone food poisoning, you'll be just fine.
7. Iowa - 92 Points - Subway
A lot of people think of you as just a sandwich shop with that one guy everyone knows as the spokesperson. Sure, that guy is probably a little overpaid to just talk about how you are a sandwich shop and how he was so lacking in creativity that he ate the same restaurant for like 100 years, but he did accomplish his goals - which, weren't exactly the highest goals in the land to begin with - and he did it with some amazing consistency. The sneaky thing is that you've added toasted sandwiches, flatbreads, and even some breakfast sandwiches. You're branching out and while that experiment hasn't proven to be completely successful yet, you're on your way.
t8. Northwestern - 59 Points - Auntie Anne's Pretzels

You aren't really a full meal right now. Sure, you have some one-off items - and if Kain Colter isn't the pretzel dog of the B1G, then I'm not sure who is - but despite some hope that you would both have great follow up years to 2012, you're now in the snack dredges of the conference. With two games left, you could finish with a little momentum, build some goodwill, and hopefully convince the rest of us that you should be taken seriously next year. However, most of us will probably ignore you for the value meal and regular soda everywhere else.
t8. Penn State - 59 Points - Taco Bell
Look, I get that you work in a pinch. And honestly, considering you're working with a product that isn't the highest grade right now, we can't fault you for what you're presenting every Saturday. Your defense? Well, you don't have much of one, do you? Still, you have a name brand and people love you despite knowing you're not exactly good for the health of those partaking in your food. But hey, you introduced the Waffle Taco - which really should be somebody's nickname on your team - so who am I to say the future isn't bright? Good things are just over the horizon, but understand it might bet worse before it get's better. Just like how you feel after eating Taco Bell.
10. Indiana - 50 Points - [Trendy Frozen Yogurt Place]
Are you really a Fast Food restaurant? Rather, are you really a B1G team? I fully admit that I do think you're better than the two teams below you, in the same way that I enjoy a nice cup of trendy froyo. However, it's just missing something. Defense perhaps? Remember that loss to Navy? Yeah, that's still standing in between you and a bowl at this point. Unless you pull off the miracle this weekend, which you're not going to do, you'll be sitting at home at the end of the year eating rotel. Rotel and froyo is an awful mix.
11. Illinois - 28 Points - [Geographic Location representing Ethnicity] Kitchen
I'm always amazed by you. Less so than our other friends in Illinois, you do not lose in the worst way imaginable. You just lose... a lot. In fact, 20 times in a row. Your product is a little sketchy and while there are always glimpses of greatness - those cheap egg rolls are as good as a Nathan Scheelhaase highlight - you are basically still a cheap knockoff. Even if you win this weekend, and you should, it's been a rough couple of years with very little improvement as the season progressed. Your manager is about as polished as a sixteen year old kid. At least it's basketball season right?
12. Purdue - 14 Points - ...
We regret to inform you that this restaurant has been shut down due to multiple violations of health code laws. Extreme mismanagement of personnel, poor storage of talent, awful execution and cooking of ingredients, an embarrassment to this food court, and what is arguably no tangible evidence of being a real place anyways has led us to declare this a toxic hazard site. If you have consumed anything from Purdue, please proceed to the nearest hospital for evaluation. We would also suggest avoiding any exposure to Purdue, it's affiliate encounters it may have this weekend, and/or television set showing another awful offensive set.