Okay, let me start by saying that it has been a blast writing these absurd Power Poll pieces each week this season. I may have not always been on the ball and I have definitely learned that I am probably more out of touch with what 'Pop Culture' is for the great majority of you, but it's definitely still been fun. With that said, I wanted to finish off the year strong with one of my all-time favorite categories - Christmas Movies.
Now for all of you Scrooges out there who are rolling your eyes at the mere thought of something absurd like a Christmas Theme, I won't let you get me down. Christmas is really the most wonderful time of the year, and I can't wait to finish off the Power Polls in that vein. So deal with it if you don't love humming White Christmas indefinitely, and follow me on a trip through the good, bad, and terrible Christmas Movies.
Just to get the logistics out of the way, there are 14 votes represented here, and in full disclosure, this poll was taken previous to the Conference Championship Game with a few tweaks - Michigan State getting the votes for first - made. It is worth noting that Aaron and Hilary had MSU on top before that even happened. Points are 12 for first, 11 for second, etc. Let's make some Merriment!!!
1. Michigan State - Miracle on 34th Street - 168 Points (#AllTheFirstPlaceVotes)
You started out as a weird old man who really only entered the picture as a nice story. You finished with a performance that made believers out of all of us and now we are more sure than ever that you are - in fact - the real Best Defense in the Galaxy Santa Claus.
2. Ohio State - Home Alone - 154 Points
All things considered, it has been one heck of a ride, but there was that moment when you realized that that thieves were coming to take you out. And while in the movie, Kevin gets the last laugh, you won't be playing for a National Championship despite your heyday this year. Tough break, but hey, you got to do whatever you wanted for most of this year, so there's that.
3. Wisconsin - A Christmas Story - 138 Points
All season, you've been trying to convince us that you are really worthy of a Red Rider BB Gun Rose Bowl Berth. When it was finally within your reach - sort of, at least a BCS berth - everything went wrong and you shot your eye out. On the upside, think about all you accomplished this year with a guy in his first year at the helm. You might be breaking tradition this year by not losing a Rose Bowl, but things are looking up. Oh and #karma.
4. Iowa - It's a Wonderful Life - 125 Points
You didn't need an angel to convince you how great things are with Kirk Ferentz actually being born. Considering preseason prognostications, Iowa has to be the best story of the year outside of East Lansing. Just like George Bailey had to figure out his calling in life and exorcise a few demons, you overcame your fear of AIRBHG and showed what the Ferentz system can look like mixed with Greg Davis. Pretty miraculous outcome, it seems.
5. Minnesota - Elf - 107 Points
You're singing, you're in a bowl, and you're singing... Sure, you would have liked to have ended up in the magical world of Florida or Arizona instead of Texas, but you are bowling for the second year in a row under the Jerry Kill regime. That is nothing to scoff at, and if you are perfectly honest with yourself, it's a little further than you imagined you would be at this point.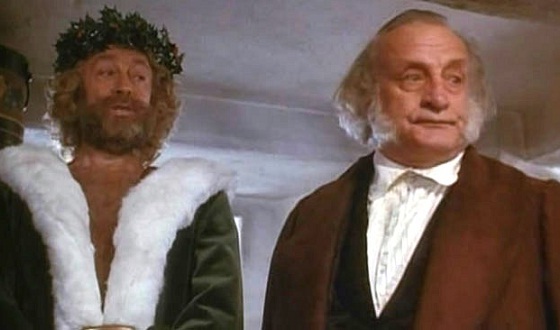 6. Michigan - A Christmas Carol - 102 Points
You are the old man of the group, and it seems like you are insistent on being a curmudgeon at times. Of course, at the end you might have been awakened by ghosts of failures from the past and visions of a sketchy future, so maybe you can still avoid the hell that is 8-4 seasons while your rival gets fat and happy. Still more questions than answers here, but you're still the most traditional of all the Christmas movies - and teams in the B1G - so enjoy the season. Just think, you could always be Purdue.
7. Nebraska - Rudolph the Red-Nosed Reindeer - 80 Points
You're a classic, but you're also a pretty overrated story. I mean, nobody really cares about that time you saved Christmas with your bright red nose. It was a long time ago and there really doesn't seem to be any evidence that you've done anything of consequence since. Heck, I'm guessing that your reindeer handler is probably considering new work at this point. Oh well, at least you'll be busy this holiday season still. That consistency will keep you going for now.
8. Penn State - A Charlie Brown Christmas - 77 Points
You're just trying to remind us of the true meaning of College Football Christmas, and we can't fault you for that. Sure, you had it all and it came crashing down but things are on the mend and maybe Santa Emmert will bring you a bowl bid next season. Right now your sad tree seems to be a sign of a mediocre season, but a young QB will lead you back! Glory to Hackenberg! That's what football is all about.
9. Northwestern - National Lampoon's Christmas Vacation - 53 Points
Everything went wrong for you this season. To make matters worst, your crazy Uncle - Gameday - came to town and managed to make a chaotic situation even more absurd. Between injuries, an electrocuted cat, and your boss wrapped in tinsel, this season will be one you'd like to put behind you as soon as possible. But hey, you brought the Northwestern family together and while goals weren't achieved, there is always next year.
10. Indiana - Jingle All the Way - 46 Points
In theory, you had a winning formula. Get Sinbad and Arnold to compete for a toy that would win them the affection of their child. What could go wrong? Just like only having an offense and completely ignoring the defense results in a cluster, this movie was a mess. Entertaining, though? Absolutely, but that does not excuse it's insanity. But hey, Arnold ended up being Governor of one of the largest states in the country, so there's always hope for you too Indiana.
11. Illinois - Santa With Muscles - 28 Points
So let's get this straight. You're a millionaire body builder who gets amnesia and ends up being a Superhero Santa... This movie is not a nice thing, has Hulk Hogan in a really bad role outside of normal badness, apparently had the writers suing to take their name off of it, and is considered one of the worst movies of all time. I got all of that from this random blog post. I've only seen YouTube clips of this movie. That's about the level of viewing I'd want of this year's Illinois football team.
12. Purdue - Christmas in Handcuffs - 14 Points
Every year, my sister and her husband watch the worst Christmas movie that they can find. They then tell us all of the reasons we shouldn't watch that movie because it's such a train wreck. Last year that movie was the ABC Family Special Christmas in Handcuffs featuring Melissa Joan Hart and Mario Lopez. That's all I needed to know to assume that it was awful. All that to say, finding the worst Christmas movie to compare you to is a difficult task and if there is one good thing about this season for you, it's that it's over.