About a year ago, Andrew and I were wondering what direction our teams were taking. His Michigan State Spartans were a disaster on offense, and my Nebraska Cornhuskers were a disaster on defense. By the end of the season, both teams had slowly changed those narratives, but it was the Spartans who took advantage in the end. One year later, we're about to see a showdown between the two schools with a national audience, a lot of pride on the line, and the inside track towards a possible playoff berth. Honestly, neither of us could have predicted this, but we're happy about it.
And so, we embark on a two part conversation to talk about where these two teams have been, what has changed in the last year, their chances for the inaugural College Football Playoffs, and finally some scoring predictions. It's a long chat, but a good one. Follow along with us as we talk about everybody's Andrew and Jesse's favorite teams.
---
Andrew: So. Jesse. My white denim-wearing brosef. The last time we talked and then published our conversation to the masses things weren't going so hot for our respective rooting interests. At this point last year, MSU's best offensive player was either Shilique Calhoun or Mike Sadler. Nebraska, meanwhile, couldn't stop a nosebleed, which is actually quite simple if you don't panic like a 5-year-old. Wind the clock forward a year, and things don't look so bad for the Spartan offense or Husker defense; MSU is averaging around 50 ppg, albeit against mostly overmatched competition, and I hear Nebraska's forced a punt here and there. First thing, then: any lingering anxieties about the Husker defense?
Jesse: First things first, I love my white denim jeans and don't care who knocks them. That's officially in print.
Second, let me talk a little bit more in depth about my anxieties when it comes to the Husker defense... This is arguably the deepest group of athletes Bo Pelini has had to play with on defense since Jared Crick and Ndamukong Suh were feasting on interior linemen. That all starts up front with a very scary defensive line that includes Randy Gregory who is a very bad man.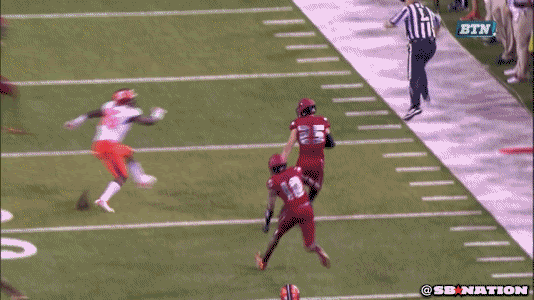 That said, you asked about my lingering anxieties, and boy do I have them. Nebraska starts incredibly slow on that side of the ball. It's as if DC John Papuchis thinks to himself, "Hey, what if I let them score here and figure out what their tendencies are. I'm sure that won't ever catch up to me." So far, in 4/5 games, we've looked absolutely lost in the first half of the first quarter. I blame a lot of this on relative inexperience at MLB and a general problem with evaluating schemes from the field. I'd be lying if I didn't say that MSU passing into space terrifies me. Nebraska just makes really poor decisions early.
As such, the stats show this has been a pretty good defense so far. We're 35th nationally in yards per play, and in the B1G, we're seventh overall. That's doable with this offense. I'm trying really hard not to get caught up too much in the hype that is easy to dive into as a Husker fan, but average to above-average can win the West. Specifically a defense that can be good at a little bit of everything. I feel especially good knowing that we were able to limit Duke Johnson to a sub-100 game and while he got his, we didn't completely meltdown with him on the field. I think good things are happening.
But hey, let's not talk too much about this defense yet. How about that Spartans offense?!?! Is it that you've just been that good this year or has the competition been that sketchy?
Andrew: It's tough to be too critical of the Spartan offense to this point. Through 4 games, they're averaging right around 50 PPG, and that number would be higher if State wasn't rolling all 3 QBs, 3 or 4 RBs, and a dozen receivers in starting in the second quarter. If there's a stronger QB-WR connection in the conference than Cook-to-Lippett right now, I'm not aware of it and would question its existence if challenged. An increased focus this year has been the WR run game, as well, and we're seeing more sweeps, reverses, and inside pitches to receivers than I remember MSU ever using before. RJ Shelton, Keith Mumphrey, and Aaron Burbridge are all excellent weapons with the ball in their hands, and it looks like the offensive staff is determined to make that happen as often as possible. And then you have Josiah Price, who will just hang around blocking all game and then wander away for a wide-open touchdown now and then. So it goes.
That said...there are lingering uncertainties. The "Y'all Ain't Played Nobody PAWWWWWLLLLLLLLLL" argument is certainly a viable one for the moment. Against Oregon, the only decent defense MSU has faced, the offense stalled out at the worst possible time- when the defense was getting gutted with missed assignments. The secondary has taken most of the heat for the whupping in Eugene, but the offense sure didn't help with 3 consecutive 3-and-outs in the second half. And, despite some gaudy rushing numbers and solid pass protection thus far, the OL looks a bit out-of-sync at times. That's understandable in the context of Bollman attempting to rebuild the 8-man rotation MSU used to such great effect last year, especially with some minor injuries slowing a couple of guys down. Still, when Jack Allen was a late scratch last week, Travis Jackson had a very rough day sliding over to center against Wyoming, getting flagged for 3 holds and a chop block, and it remains to be seen if this constantly shuffling group will stand up to a front as good as Nebraska's.
Overall, though, the offense looks comparable to the 2011 outfit already, and we're only a third of the way into the season.
---
Check back soon for Part II