Look, last week was probably the first step towards the #B1Gpocalypse. The good teams lost, the middle teams barely beat mediocre competition, the bad teams lost even worse than the good teams and the national media beat up the B1G for these failures. Outside of the beautiful B1G hate that got to be spread around, the general plusses for those of us who won and could enjoy seeing our rivals lose, and Ameer Abdullah's run, it seemingly felt like another gut-punch of a B1G week. We've had a lot of those.
With that understood, when it came to this week's Power Poll there seemed to be two frames of thought:
1) Everything is fine and it just so happens that our best might not be better than other people's best.
2) Everything is chaotic, so let's just vote based more or less on resume.
That makes this by far the strangest Big Ten Power Poll numbers I've ever seen with a surprise tie for first place, some ranges that only make sense if you could see the votes, and me trying to figure out what to use as a subject. Of course, the subject wasn't very hard at all. I thought about going infectious diseases because you all seemed to think that would be funny, but diseases meant finding pictures of diseases and... gross. At least some of them.
No, I went the other direction. Since last week was a disaster, the obvious and appropriate direction was definitely Natural Disasters. Of course, we're not talking as if we were actually the Natural Disaster. No, we're the devastated land mass trying to figure out WTF just happened.
So, with a shout out to Wikipedia for listing Natural Disasters, here we go. As a point of order, there were 14 voters. Points represent cumulative points resulting from 14 for a 1st place vote, 13 for a second and so on. First Place Votes listed as well are as high vote and low vote. Any other data misunderstood should be directed in the comments where I can tell you that it's all pretty common sense.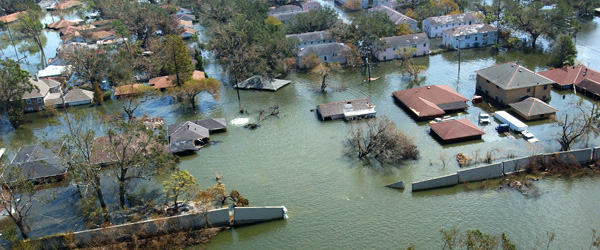 image via ready.gov
T1. Michigan State - Flood
162 Total Points || 8 First Place Votes || High 1 || Low 9 || Last Week 1
You were just minding your own business being an awesome land mass. In fact, I'm pretty sure you were the best land mass ever to be found. There was no way you would be flooded out. You had great dams, galaxy class if you may, and your stout man-sized defenses would keep you from the rains that were coming in the soggy Pacific Northwest. Then those rains started coming fast and furious and all of a sudden there were leaks everywhere and OMG RAINSTORM MARIOTA CANNOT BE STOPPED! It could be worse I suppose and most likely by the time you face the other disaster victims, you'll be dry. Still, it's proven you can be destroyed. That's something that's a little unsettling.
image via wikipedia
T1. Penn State - Heat Wave
162 Points || 1 FPV || High 1 || Low 6 || LW 7
For most people, a Heat Wave is a really intense period of heat that makes even the best of un uncomfortable. For you, it's just been life for the past few years. These first couple of weeks have been even hotter as a close win made you sweat and this last week wasn't exactly perfect. On the upside, you overcame both challenges and now that heat wave of the past few years seems like it finally broke. Will it make things easier or more difficult with something on the line? Really can't tell yet, but you start conference play against your new favorite opponent. Looks like maybe the heat won't break yet. Better bring your A game.
image via wikipedia
3. Wisconsin - Space Weather
146 Points || 1 FPV || High 1 || Low 11 || LW 4
I know you all think this should be Purdue, but Purdue has much worse fallout that we'll get to in a while. Anyhow, you're dealing with some intermittent power outages due to crazy space storms and gamma bursts and find-a-passing-game-meteor showers, and it shows. You seemed to get your act together in that second half of this weekend's B1Gpocalypse, but 9-2 is not a good halftime look against an outmatched opponent. No one else did much better and at least you're not dealing with a huge mess like some other teams here, but still... You need to be careful for when the next grid outage comes. It all starts with being prepared. Here's hoping the guy in charge knows what he is doing.
image via wikipedia
4. Nebraska - Thunderstorm and Lightning Storm
142 Points || High 2 || Low 9 || LW 3
You're dealing with one of the least threatening storms in theory. I mean, you had the, "Severe Thunderstorm Warning" banner up that nobody even watches and for due cause. Then you got struck by lightning a few hundred times because you were wearing a freaking metal suit in the middle of a flat field and those crazy Cowboys just laughed as you kind of flopped around on the ground instead of ran a coherent offense. Lucky for you, you also avoided complete devastation. It's always nice to know you have an Ameer Abdullah Storm Damage policy. Hopefully you won't need it thatmuch more against those silly thunderstorms. I'm doubting that's true.
5. Iowa - Earthquake
133 Points || High 3 || Low 8 || LW 6
You had an unsettling weekend. For the second week in a row the ground was shaking underneath you and made it nearly impossible to gain your footing. You looked shaky with the ball, and the situation became so dire that even a building-sized man like Brandon Scherff couldn't stay on his feet. Lucky for you, he seemed to be okay and the GD foundation was strong enough to take on all of the uneasy ground movement around you. Next week should be a lot smoother sailing, but you've been flirting with disaster for a little while. Better hope that you won't add Cyclones to your list of problems.
image via wikipedia
6. Ohio State - Tsunami
129 Points || High 2 || Low 11 || LW 2
That wall of water coming your way was unleashed by an underwater disturbance known as Mt. Braxton Miller Injury Explosion. Now you have 50 ft waves crashing into your young, unproven defenses and it shows. Sure, there were times this weekend where it looked like you had staved off disaster, but there were too many weaknesses for you to come out unscathed. Next time, it'd probably be a good idea to make a better gameplan for when this happens, and for the love of god would you please not try to throw deep to the left. It just. Doesn't. Work.
image via wikipedia
7. Minnesota - Wildfire
118 Points || High 2 || Low 11 || LW 8
On one hand, you've avoided most of the wildest parts of the fire around you. You're undefeated and have looked... okay so far? Your house isn't blackened to a crisp and don't worry about the fact that you can't pass. You don't really need that to get really far anyways. But that's just it, this is a wildfire and all of us are wondering if you can keep running away from the flames before you get set ablaze as well. So far, so good, and this week gives you a chance to put those flames out for a while. If that doesn't work? Well, you're joining the rest of us in the disaster camp.
<iframe width="420" height="315" src="//www.youtube.com/embed/3zHgwiOK3oU" frameborder="0" allowfullscreen></iframe>
8. Rutgers - Volcano
116 Points || High 1 || Low 9 || LW 9
Similar to our friends from Minnesota, it seems like you've done well to avoid debris and devastation. The Volcano started erupting before the season even started, and you have taken it like a champ. Turns out it helps that you're a little further from that lava flow than we all thought, which is commendable. On the other hand, it's been a little close for comfort and we're not sure if it was that great an idea to put your favorite house in harms way this weekend. I know you think you'll be fine, but playing with lava is a bad idea. It just really is. Come out victorious? We'll be impressed. Otherwise? Mount Buttgers jokes. Lots of them.
<iframe width="560" height="315" src="//www.youtube.com/embed/SlGTirtRP4c" frameborder="0" allowfullscreen></iframe>
9. Maryland - Landslide
106 Points || High 5 || Low 11 || LW 10
For great swaths of last weekend it felt like you were buried. The mud just kept coming down the side of the mountain and we couldn't tell what was going on down in South Florida. Then  we saw you waving your hands like a mad person, and you kind of worked your way out of the much. There's still a whole mess left behind you and you need to shore up all those turnovers - because really, six is just not a good thing. But, you're still undefeated and have avoided the need to hang out in disaster land this season. Go ahead and keep that up.
10. Indiana - Quarantine
78 Points || High 1 || Low 12 || LW 11
I'm sorry, who takes week two off? You might have avoided disaster, but we're not sure why you were locked in that quarantined room in the first place. Whatever, you're still undefeated, so maybe you had the right idea. I don't know. I'm more confused at the 1-12 spread on your votes.
image via wikipedia
11. Michigan - Blizzard
71 Points || 1 Last Place Vote || High 6 || Low 14 || LW 5
Winter Storm Everett came through last weekend and blinded you... or at least looked like it blinded you. At least your coach is man enough to not wear a coat, or headset, or a look of a competent leader. You were snowed in, and even though you might have had plenty of plows to deal with the chaos, you still got blasted. Right now we're not sure if you'll thaw out or if you're pretty much done for the season. It was a drastic drop from last week so we're probably all overreacting, but you looked like you just got snowballed over.
<iframe src="https://embed.spotify.com/?uri=spotify:track:1lqMLr9Wj7SM2F9AikGcxN" width="300" height="380" frameborder="0" allowtransparency="true"></iframe>
12. Illinois - Hurricane
59 Points || High 7 || Low 13 || LW 13
Hey, nice things not withstanding, you've dealt with pounding rains and high winds for the past two years and now you're undefeated and we can't say enough about how impressed we are. That being said, this might just simply be the eye of the storm before you're beaten into a bloody pulp again. There's certainly enough proof that maybe this is the end of the sadness, but there is also a lot to the contrary - like not being super impressive for four quarters yet. You have a very winnable game this weekend against what seems to be a really mediocre Washington team. Take care of them and maybe the storm dissipates. Don't do that? Well, just expect some potentially bad things over the next year.
<iframe width="420" height="315" src="//www.youtube.com/embed/5XrL7hzuDDU" frameborder="0" allowfullscreen></iframe>
13. Northwestern - Tornado
42 Points || 3 LPV || High 11 || Low 14 || LW 12
It just came out of the sky and kind of ripped you to shreds, huh? This could be that tornado or that could be your last two opponents in the first half. You're currently dealing with the reality that you didn't build a great shelter for these storms and they are coming fast and furious. It's like the movie Twister out there and the more we watch, the more we all think you are going to be that researcher dude whose truck got speared by a windmill. There's still time to take cover and make something of this season, but it's looking bad. You get a week to rest and think about what's gone wrong. That's probably a good thing.
14. Purdue - #AllThePlagues
18 Points || 10 LPV || High 13 || Low 14 || LW 14
Any good will we gave you last week evaporated when you were eviscerated by the mighty Chips of Central Michigan. You are now the fine owners of two total wins since Hope took over and you are lucky to have both if you think about it. It's like you're dealing with all ten plagues from the bible at the same time. You have blood in the faucets, frogs and locusts and other crazy animals all over the place, boils, dead people, and just a good old-fashioned mess. I want to tell you it's going to be okay, but it's really hard to say that with a straight face. On an upside, you only have 10 of the Last Place Votes, so that's something.