A few weeks ago, BigRedTwice emailed me late on a Tuesday and was like, "Jesse, I have an excellent Power Poll idea." After a pretty spectacular nail polish power poll, I think we can all agree that if she had another idea, I should give it a chance. Lucky for the OTE public, BRT is back this week with a super special Canadian Imports edition.
As a quick point of order, we had seventeen voters this week. Points, as always, are awarded from top to bottom with 14 points to the first place team 13 to the second and so on and so on. Also, here are some graphs courtesy of our good friend InsertName!
With no further ado, I am handing it over to BigRedTwice for a special Canadian edition of the OTE B1G Power Poll!
---
LIVE! From America's Hat!
by BigRedTwice
"What a week. National #1 Ohio State snuck by Indiana by a touchdown and #2 Michigan State escaped Purdue by only a field goal in a week where a sizable chunk of the Top Ten went down hard. Iowa continued its surprising start to the season by taking advantage of Wisconsin's FallFest Turnover Extravaganza, Maryland hung tougher than expected with Michigan before crumpling in the second half, and Penn State struggled more than they should have with Army. As for Minnesota and Nebraska fans, they may only now be sobering up after ugly Saturdays.
What better way to celebrate this first week of conference play (yes, PSU and Rutgers, we know you already played each other weeks ago, and no, we still don't care) than by making a quick trip to the B1G's neighboring nation of Canada? Future home of scores of B1G players who were too B1G for the NFL, this week's power poll celebrates the entertainment exports of everyone's favorite frigid neighbor.
Come at me, bro.
231 Total Points || 13 First Place Votes || High Place 1 || Low Place 4 || Last Week 1 || Change 0
You've been around for preeetty much always, and during that time, you've been pretty famous to boot. Last season's NC run may have been the equivalent of Shatner's hunky Captain Kirk days, when everyone knew your story and nothing could stop you. This season, however, finds you more in the Priceline Negotiator phase of your career--it's not bad, exactly, and you're making bank on it, but it's not really how you saw your stardom playing out either. Ezekiel Elliot, seemingly the lone Buckeye player who wished to keep OSU undefeated and #1, almost singlehandedly kept the Buckeyes just out of reach of Indiana. Somehow, improbably, you're still chugging along--but for how much longer?
"He's my brother and he's never even said, "Good job. " I just want him to love me, you know?"
214 Points || H 2 || L 3 || LW 2 || Change 0
Will Arnett, as far as I'm concerned, was born to play Gob Bluth, a character with more than a little in common with everyone's favorite #disrespekt'd team, Michigan State. Gob, although the older brother in reality, is little regarded by his parents or by anyone else. As a consequence, he stages elaborate attempts to gain the attention of his family. MSU, finally successful and flying high in the rankings, still envies the attention paid to other "traditional powers" in the same state. Nevertheless, MSU has continued to win, and although the defense is not exactly "Solid as a Rock" as in years past, they've managed to get by, much like the Bluth family themselves. MSU nearly made a huge mistake this past weekend against Purdue, but managed to hang on for the win. Thank goodness, because if they drop a game, the illusion* may be shattered.
*Not a trick, which is something a whore does for money.
You are so excited!
209 Points || 4 FPV || H 1 || L 5 || LW 4 || Change 1
Like Ms. O'Hara, you, Northwestern, find most of your fans outside of the mainstream. Sure, there are the occasional splashy, big-time successes--your Beetlejuice's and Home Alone's-- and 2015 may well be another one of them. But for the most part, you're content to appeal to fans who fancy themselves a little smarter and more discerning than average, the type of people who love Best in Show. Both also have a strong association with the city of Chicago, one for being its self-proclaimed Big Ten team, and the other for leaving her five-year-old child home alone there, presumably assuming the butler would tend to him while she jetted off to Paris.
Man! She feels like a woman.
187 Points || H 2 || L 6 || LW 5 || Change 1
Well, well, well... look who's still kicking after all this time. After listening to mocking choruses of "That Don't Impress Me Much" for years, Iowa is looking put together and fierce this season, most recently dousing the excitement of Badger fans and inspiring fear in the rest of the Quadrangle. Shania is a survivor, coming through setbacks like a childhood poverty, an illness that stole her voice, and a best friend that stole her husband; and Iowa is a survivor too, coming through a weird rhabdo rash, AIRBHG, and a 4-6 season to get where they are today. Where they are is on top of the West, poised for a showdown with Northwestern in two weeks. All those years of telling Kirk "You're Still the One" may finally be paying off, and if he takes Iowa to new heights this season, they'll keep him "Forever and For Always."
Nice shirt, Maize and Blue.
175 Points || H 2 || L 7 || LW 6 || Change 1
You are annoying and no one likes you, but you don't care because HAAAAARBAUGGGGGGHHH DOLLA BILLS, Y'ALL! Derision and censure alike bounce off you because your frighteningly large and frighteningly fervent fanbase offers you unconditional support, love, and money. After dismantling BYU, a population poised for frenzied worship exploded on the college football scene, exhibiting signs of something called "Blue Flu" or something. Last week brought hapless Maryland in your path, and although the first half was scary, the #Harbaughlievers' faith never wavered and was, at last, rewarded.
"Allow myself to introduce... myself."
151.5 Points || H 5 || L 7 || LW 3 || Change -3
Time was, Wisconsin, when things were looking pretty good. You were everywhere--in the conversation for whatever Legends/Leaders division you were in, the conference as a whole, the Rose Bowl, the Top 25. You were sort of the football equivalent of Mike Myers' movie career in the 1990s--success after success after success. You both even featured a um, Fat...Badger in some of these successes. But after losing to Iowa last weekend, things aren't looking quite so rosy. Suddenly, you're just an average looking guy just trying to get along in the world. Will the 2014 CCG stomping (59-0) prove to be your "Love Guru"? Let's hope not.
"Everybody come and play (Yeah!) Throw every last care away (I love my hoop earrings!)"
128.5 Points || H 5 || L 10 || LW 8 || Change 1
"Let's Go To the Mall!" Indiana, if you'd knocked off Ohio State as you came so veryveryvery close to doing, people would have been lining up to take you to the mall, or anywhere else your little hearts desired. 4-0 for the first time in a long time and flying high, you were utterly unfazed by THE Ohio State University. Under the guidance of Zander Diamont, a name which sounds like it belongs to a manufactured pop star or a sleazy manager of a manufactured pop star himself, Indiana put up a grand fight. Your recent history is pretty embarrassing--"Sandcastles in the Sand" embarrassing--but could this be the start of your emergence as Robin's hotter incarnation of Robin Sherbatsky?
Wow, that smoldering gaze is so Ill-eye-ni.
116.5 Points || H 6.5 || L 10 || LW 11 || Change 3
It's not that you've never had success before--you have, in fact, known the taste of acclaim. But it's been a long time since then, and you've had a lot of trouble making the right career moves to get you back to that place. Voicing "Lucky" in Pound Puppies for several years is probably the acting career equivalent to hiring Tim Beckman to coach your football team. However, since you ditched him, this season has been refreshingly mediocre. This week found you gaining a surprise win over Nebraska, and hey, there are much worse things to have than a 4-1 record--as you well know. Will this be the spark to a solid season and the destiny-altering coaching hire for which you've been waiting so long?
It's like raaaain on a Saturdaaaaay...
96.5 Points || H 8 || L 12 || LW 10 || Change 1
So take me as I am

This may mean you'll have to be a stronger man

Rest assured that when I start to make you nervous and I'm going to extremes

Tomorrow I will change and today won't mean a thing
Penn State fans have already had their fanhood tested this season after a disastrous start to the year. Since that debacle, however, the ship has been somewhat righted, although nearly every week has given fans something new to be nervous about--this week, sneaking past an Army squad that lost to Fordham earlier this year was that new thing. But, you "oughta know" how to swallow a "jagged little pill" of uneven results after the last few years as a PSU fan, and "you know you wouldn't want it any other way"(?) You live, you learn, you love, you learn, you cry, you learn, you lose, you learn.
Um, yeah right, Gophers.
Yeah, I'm just messing with you, Minnesota. You're actually Michael Cera. Sorry about that.
Hey, he's got a Minnesota-appropriate sweater, at least.
10 Minnesota Golden Gophers: Michael Cera
91 Points || H 6 || L 13 || LW 7 || Change -3
That thud from dreamboat to professional awkward guy is an approximation of what happened to you last weekend when you got destroyed in rather devastating fashion by Northwestern. I think a lot of us were hoping you'd have a little more of the Gos about you (I know I did), but unfortunately, your offense looks a lot like this most of the time: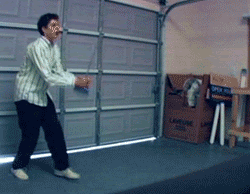 "This kid's got moves."
The good news is, you've got Purdue next, and a decent chance to improve your self-esteem. However, I wouldn't challenge anyone from Purdue in anything related to Star Wars if I were you, since that's a battle you aren't likely to win.
This only reminds you of Bo.
76 Points || H 8 || L11 || LW 9 || Change -2
Jeez Keanu. I know things aren't the way they once were for you, but cheer up! Happy days are here again! Or at least a happy coach, right? Unfortunately for Nebraska fans, neither they nor Coach Riley are very happy anymore. With a humiliating and unnecessary loss to Illinois by a point, Nebraska is off to a dismal 2-3 start, their first such start since 1959. Other things that happened in 1959 include: Fidel Castro came to power in Cuba, Alaska and Hawaii joined the U.S. as states, and the Etch-A-Sketch was invented. The Mike Riley bandwagon is pretty empty right now, presumably giving lone occupants Shawn Eichorst and Mrs. Riley plenty of legroom. Now Husker fans are left hoping that if they concentrate hard enough, a truth will be revealed to them where "there is no season." Good luck with that.
Don't give in to the Dark Side, Purdue.
53 Points || H 10 || L 13 || LW 13 || Change 1
A funny thing happens if you mention the name "Hayden Christensen" to any adult male, particularly odd for an actor who is far from a household name. A restrained fury will overtake the man you are speaking to, his brow will furrow, and a disdainful "Him?" may emanate from his lips. If you continue the conversation, you'll come to find that he likes to pretend that "those films" which form the bulk of Hayden Christensen's claim to mild fame don't really exist. This is much like how Purdue is treated on OTE, what with all of those "404" and [redacted] jokes. But this week, MSU very nearly found out what happens when actual football teams forget that Purdue exists. The Boilermakers are still not a good team, but they proved that ignoring them is a dangerous policy.
Things are rough in Piscataway.
39 Points || H 11 || L 13 || LW 12 || Change -1
Strictly speaking, Rob Ford is a former mayor of Toronto, not an entertainer. However, his biggest claim to fame came via a videotape, so I'm going to fudge this one and say he's "essentially" an entertainer. (Rutgers, "essentially" an Ivy League school, is presumably in sympathy with this decision.) Ford, after somehow getting elected as mayor of a major North American city, gained widespread notoriety during a remarkable run in 2013 and 2014 when various incriminating videos, allegations, and charges surfaced on a bi-weekly basis, splashing a new sensational Ford headline across newspapers with stunning regularity.
Stop me if this sounds familiar.
Rutgers, luckily, did not play last weekend, and simultaneously remained free of fresh scandal, giving Rutgers' fans a welcome break from notoriety. Next week they host Michigan State though so... enjoy it while it lasts."
The Guy Fieri of bands... or is Guy Fieri the Nickelback of food show hosts? Either way, blech.
17 Points || EVERY SINGLE LAST PLACE VOTE || H 14 || L 14 || LW 14 || Change 0
I'm sorry Maryland, but you brought this on yourselves. You are Chad Kroeger/Nickelback. Yes, you are. You've been outscored 73-6 in the last two games. That's just about as ugly as a blonde bob with a dark goatee, I'm sorry to say. I'm even sorrier to remind you that you face Ohio State next--perhaps you can channel whatever helped you survive the first half against Michigan in relatively good shape, but if OSU decides to have a bounce-back game this weekend, you're in deep trouble. At least you can always look at this photograph... every time I do it makes me laugh.
---
Ed Note: Huge thanks again to BRT for volunteering to take on the Canadian Entertainment Exports project and for basically doing my job for me. I'm a huge fan of outsourcing my work, and I think we can all agree that she did a great job. Also, if you ever have ideas or something, shoot it over to my email in my profile. I can't post everything, but if it's good, I'll pass it along. - Jesse