Without any further ado, your questions our answers, hot taeks, diatribes, and maybe a small dose of wisdom too.
Q: Is the Ohio State University Buckeyes football team just rusty or is the product we see on the field what we get this year? - trasch_man
Townie: It's hard to say, based on the competition. What we know is how they play inside the B1G. they smoked the Hokies, which turned out to not be such a big deal. Indiana and Northern Illinois are the only two teams to finish the game within a touchdown.
You call it rust, but jeez, these guys are smoking people. So how good is the conference? I think we need to have the bowl games played and look at this in hindsight. But right now, I think we're a strong conference that will be better than .500 in bowls.
Stew:  I don't think the ceiling is nearly as high as last year's unit.  Seems like the OL and WR just aren't as good.  That said, I still think it's good enough to win the NC, and probably has a higher ceiling than what we've seen so far this season.
Speth: I mean they aren't going to lose to the likes of Iowa. Bama or Clemson? It's certainly possible, whereas last year they weren't going to. I mean I guess this might be their ceiling this year but as the B1G's legitimate top 5 team that's not the end of the world.
LPW: They might just be playing down to their competition. A proper OSU team would not be taken to the wall by Indiana any normal year.
Jesse: Yes? I'm with other people here. Ohio State might not be 'dominating' but they're winning just fine and still have room to get better. It's not 'rust' at this point, but last year Ohio State was a steady and improving squad before hamblasting Wisconsin and the field. So keep that in mind…
GF3: I think there's a fair bit of rust from having Cardale in there bungling the offense so long. I want to say that Illinois sorted some things out, especially in giving the offense an idea of which blocking schemes are working and which aren't. That said, it's quite possible that they stay rusty for too long and lose.
Thumpasaurus: You assholes are 10-0. What more do you people need? This team has a better record than last year's team at this time. They won the national title. What would make you happy, a redaction of last year's Virginia Tech loss to apply to this year to make you 10- (-1)? You know, the other teams in the conference are also trying to win the football game. It's not like you paid to see the Globetrotters and they showed up half in the bag and put on a disappointing show against a fake opponent. All of Ohio State's opponents are honest-to-God Big Ten teams doing their best to win the game and none have managed to. So if you think OSU's failure to score a touchdown on every single possession is due not to the other team coming up with a good play but instead is due to cataclysmic amounts of "rust," then why don't you go charge the field and spray the Buckeye bench with WD-40 next week if they don't put up 70 on the Spartans?
tl;dr: you can't complain about a 10-0 team without pissing people off
Aaron Yorke: Hey, maybe the Buckeyes just aren't as good as they were last year. I mean, we didn't expect Cardale Jones to get benched, but it was going to be tough for him to continue being unstoppable. And last year Ohio State had close calls against Penn State and Minnesota before its amazing playoff run. With all their returning starters, it was fun to imagine the Bucks being a juggernaut like they were in the 2014 conference title game, but football rarely goes the way you expect it to.
Bonus Question inside the question: Be honest. Can MSU beat OSU? - fram giller
Graham: No. No. No. This is more of a "it's not me, it's you" situation, as Sparty's secondary is less than stellar (mostly because of injuries and players leaving), a secondary which gave up 30303030 yards to OSU last year. Is OSU bringing their A-Game each week? No, but they didn't do it in 2014, apparently saving energy for winning all the late season big matchups. Injured Connor Cook and suspect defense on the road doesn't sound like a recipe for a big ol' upset win.
Speth- Can they? Yes. And Iowa might not suck as a state someday too. Seriously I have no idea what Iowegans see in that state. It's East Nebraska except Omaha>Des Moines.
GF3: Yes.
Townie: I can't wait to see.
Yorke: Yes. Indiana almost beat Ohio State. Penn State almost pulled the upset last year. The Buckeyes can be beat if the Michigan State defense shows up, but given how that unit has played lately and the questionable health of Connor Cook, it's going to be a tough order.
Q: Wisconsin is totally going to lose at Minnesota this year, right? - beezer07
MNW: God, I hope so. Wisconsin going out on a two-game losing streak (get fucked, Badgers) would just be so glorious. Thousands of UW-Platteville grads would just have to look at each other, realizing that coupled with the Packers' flaws, they have nothing--NOTHING--in their sad existences.
Stew:  Whatever, #TeamMeteor
Speth: WOE IS ME. The Packers are the worst. OMG 6-3. Time to fire everyone. Wisconsin is #20 and going to win 10 games for the 12th time in 10 years. Speaking of which, so I realized that despite starting 10-0 Iowa could still end up having a season that Wisconsin fans wouldn't consider a top 5 season the last 15 years. Yup my football fandom totally sucks. Oh and UWO is ranked #3 in the nation and hasn't lost to an NCAA team this year (suck it Whitewater) and probably will win a national title this year. /goes to cry in the corner. As for Wisconsin losing to Minnesota, I've been saying it for years, Minnesota cannot outwisconsin Wisconsin.
LPW: that would be the funniest thing ever
GF3: Probably not, but a boy can dream.
Q: Who Wins the B1G offensive and defensive players of the year? - Bschim23.1
Graham: Zeke Elliot, OPOTY. Nassib, DPOTY. For in-depth analysis, go somewhere else, or right here
Stew:  At this point it kinda has to be Elliot.  Most other candidates have had missed too much time from injuries (Howard/Sudfeld), and Cook has looked great and pedestrian at times.
MNW: Someone from my team, because everyone from your team is trash.
Speth: Ask again after OSU/MSU. I'd say Elliot, but Cook is more than capable of changing that. As for defense, Joe Schobert. Yeah yeah #homersota but his stats are nuts and nobody makes more plays than him
Jesse: OPOTY: Gotta be Zeke. He has been so good this season and has definitely been the heavy lifter for the Buckeyes. I have no idea what to think about DPOTY. It's been a weird year with a lot of good, but not necessarily run away performances. I think Bosa is still a front runner but he hasn't been quite as dominant as people expected, so who knows. Nassib and Schobert will get play too. My thought? How about Desmond King? Leads conference in INTs, has a bunch of PBUs, and is the anchor of a good Iowa defense.
GF3: Jake Rudock. (catches breath from laughter). Probably Elliott. DPOTY should probably be someone like Nassib. Or maybe Jabrill Peppers based on all that potential.
Q: Tom Waits: yay or nay?  - SpartanHT
Graham: Nay. "Downtown Train" and some of the other heart-wrenching, fascinatingly haunting tracks, yeah they're cool, but a lot of his work sounds like an off-tune tuba made love to "The Monster Mash." Sorry, I want to love the guy, I do, I do. But for broad yes or no Internet questions, I say nay.
Stew:  I enjoyed Mystery Men more than most.
Jesse: I want to say yay for so many reasons, but nay. I realize he's like, the most important indi artist as far as influences go, but I just can't dig his sound. Just not my thing I guess?
Townie: I love him for this:
I also love I Don't Wanna Grow Up. But a lot of his stuff is like performance art, rather than music. If I'm going for that vibe, I'll listen to T-Bone Burnett instead.
GF3: No. And you're too young to be asking these questions.
Q: At 10-0 against their schedule, is Iowa reminding people of 2007 Kansas? -ziowa9
Stew: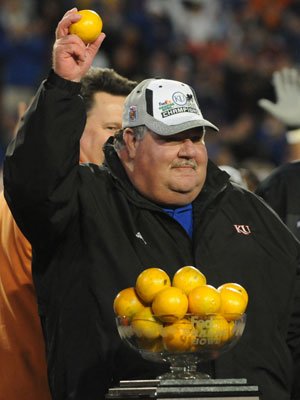 Speth: Nah Mangino has 200 plus pounds on Ferentz and can't possibly look like him for that reason alone. Oh the football product? Absolutely. I can only dream that Iowa craters as hard as Kansas. Then again It's not like Iowa had a losing season last year or anything… Oh wait they did. Enjoy your once a decade double digit win season success.
Jesse: Sorta. That team lost its undefeated season at the very end. I'll see the parallels if Nebraska can do the same.
MNW: Iowa ain't winning a natty like '07 Kansas. The Jayhawks did drop a surprising one on the road to Oklahoma State, though, which I guess kind of equates to Nebraska's level of success this year. Long story short, I'll take Iowa to play Memphis in the Peach Bowl, so yes. I think it's basically the same season.
Townie: I'm not on the Iowa hate train like some of my peers. However, you are never as good as you think you are after a win. And all Iowa has done so far is win. How good are they? Can they run with Clemson and stop 'Bama's run game? I don't know, but I don't think so.
GF3: "I couldn't stop this box truck but I might be able to stop this train." If you can't stop Minnesota's run game, you aren't stopping Bama's run game. Period. End of discussion.
Q: Are Indiana's close losses due to Kevin Wilson as HC or his defensive coordinator? -trasch-man
C4B: I'm not sure that your premise is totally accurate, but I'll give it a shot. Brian Knorr is in his second year as Indiana's defensive coordinator (though for some reason it still feels like he was just hired this past offseason), so naturally, adjusting the personnel we have to fit his schemes is taking time. It helps that we had players up front who already fit, but it's still a slow process. The biggest problem with the defense is that we literally start 0 upperclassmen (read: juniors or seniors) in the secondary, and only Chase Dutra saw much real playing time last year.
Kevin Wilson came to Indiana after many successful years as the offensive coordinator at Oklahoma. The one thing that all of his IU teams (discounting the 1-11 squad he primarily inherited from Bill Lynch) have done well is offense. While he has been working at trying to build the defense, he's been forced to hire what seems like a new defensive coordinator or at least one new defensive position coach just about every year due to people getting hired away or not doing enough to keep their jobs. Also remember that this is noted historically bad football school Indiana, not (just to use an example) defending national champions and all-around football power Ohio State, so we don't often get our pick of available coaches to hire as replacements.
In truth, I think the real factor in Indiana's close losses is that we don't have the level of talent the rest of the conference (at least at the top, anyway) does once you get into the second and third string. The way Indiana plays football, your second stringers are going to see a not-small portion of game action due to exhaustion and the occasional injury that is just part of the game, and we're not yet at a point where the second stringers can step right in and be just as good across the board.
Stew:  I'm going to say a lot just has to do with bad luck.
LPW: What Stew said. There's an Angry Indiana football hating God out there, and Candy and 87 Rides a Surfboard should consult with Iowa fans to figure out how they slayed AIRBHG
Speth: Whatever. Indiana lost my sympathy for not finishing the job against Iowa. Indiana's defense has always been terribad and until they have a competent DC this is what you're going to get from Indiana under Wilson. It could be worse. It could be Indiana under Bill Lynch.
Townie: I think Indiana's players have to close the deal on some of these games. Somebody has to say, "I'm not going to let you beat me…" and make the game saving tackle or catch the game winner. Somebody has to step up and in the close games, it's about the players. Winners win...they find a way.
GF3: Losing becomes an expectation. You can see it in a lot of teams who have the talent, heart, and ability to win, but not the belief. Every one of those Indiana players knew Michigan would win that game. They just didn't know quite how it would happen.
Q: Does Halo have the best soundtrack of any video game franchise? - dbl5030
C4B: The Legend of Zelda would like a word with you.
LPW: Zelda, by a mile. What other video game franchise soundtrack has been performed by a symphony?
Speth: Negative. Fifa. Also Elder Scrolls. Actually yes, Elder Scrolls ftw
Ray Ransom: As the only professional game developer among the ranks of these unwashed sports "writers" I can assure you that Halo has not only the best soundtrack of any video game franchise currently in existence, but further there will *NEVER* be a soundtrack that eclipses Marty O'Donnell's stirring, monk-filled, taiko-drum riding epic score.
Full Disclosure: I got into the games industry based at least 85% on my love for Halo: Combat Evolved. I maintain my objectivity.
GF3: Ray is wrong.
Thumpasaurus: The Nobuo Uematsu installations of Final Fantasy have some tracks that still make me all sentimental when they pass through my head. For licensed-only soundtracks, the Tony Hawk's Pro Skater series has to be up there. Individual games that are way under people's radar: Castlevania: Symphony of the Night and Streets of Rage 2.
I just reread my response. I think I might be older than you.
Yorke: Zelda has been my favorite franchise since I got a Super Nintendo on my sixth birthday. The theme music is pretty amazing, but for battle music I might prefer Final Fantasy.
Q: What would Nebraska's record be if Bo Pelini was still the coach? - ziowa9
Stew:  7-3, just because it would allow him room for 1 more loss in two weeks.  He almost certainly would have beaten IL, BYU, Purdue, and Miami, but would have also lost to MSU.
LPW: 9-4 forever
Speth: Better than 4-6. They're going bowling though. And I look forward to the mass exodus of Iowa fans after Nevraska beats them because SERIOUSLY YOU GUYS ARE EVERY WISCONSIN TEAM THE LAST 5 YEARS WITH A BIT MORE LUCK. The circle jerk can stop anytime now
Jesse: Maybe 6-5/7-4? Not too much better than that honestly. This secondary has seen too much attrition, and the LB spot was just so terrible under Pelini as of late. I think that continuity probably leads to wins over BYU and Purdue, and maybe even Illinois, but that's it. I still see us losing to Miami and probably Wisconsin. Definitely in play to have lost to Minnesota as well.
Townie: Way better than their current record. Pelini had his kids ready to play. I'd say this Nebraska team would be #2 in the west with one loss today, if he were still coach.
LPW: On the path to 9-4!
RR: The most 9-4 record that has ever 9-4'd...and he would probably be fired after the season.
GF3: He'd have won most of the losses, but not come within sniffing distance of beating MSU. As Jesse told me in Memorial Stadium last year: Pelini is a guy who beat all the teams he was supposed to beat and none of the teams he wasn't.
Q: Is 2015 Ohio State (existing solely as 2015 Ohio State) properly ranked in the CFB Playoff Committee Rankings? -beezer07
Thump: I don't think it really matters unless you're talking about the 4/5 bubble. "If the season ended now" is a weird exercise to me in this context because OSU's three toughest games before bowl season will be the next three.
But if the season did indeed end today, yes, OSU deserves to be in the top 4.
Stew:  Yeah, 3rd seems about right.  I mean, look at the Massey Composite.  Very little actual bias from last year there.
Speth: Yeah there's nobody I would rank ahead of them that's behind them and Clemson and Bama have looked better than them. Third is totally fair. Iowa should be about 15th but they're currently winning the "2014-2015 Maryland Basketball Award" for luckiest team on the planet. And like Maryland basketball last year, they'll have nothing to show for it at the end of the season.
Townie: No way. They should be consensus #1. Zeke and Bosa...I mean come on. Do we really have to play these games? Just kidding...get fucked Buckeyes.
GF3: Probably not, but we don't live in that vacuum. They haven't lost a game, even at their worst, and for as much as we deride the offense they're 4th in margin of victory in the country. I'd rather see the team peak in the last few games than in the first two months (hi, Northwestern).
Q: Which B1G team with a with a losing conference record actually better than its record suggests? (Rutgers, Maryland, Indiana, Nebraska, Illinois, Minnesota, or Purdue) - Townie
C4B: The commentariat hasn't dubbed Indiana "the best 4 win team in the country" for nothing. Force one more defensive stop in any of three games (OSU, Iowa, Michigan), and don't have a complete meltdown against Rutgers, and Indiana is 6-4 with a major scalp on their belt and hopes of a mid-tier bowl game. Instead, Indiana is 4-6 and needing to win two straight games to make the postseason at all, which looks like a Herculean task right now.
MNW: Indiana (obviously), Nebraska, and Minnesota.
Stew:  I think it's multiple teams.  I think IN has had awful luck this year, and is much better than their record, and I think pretty much everyone agrees about that.  UNL is pretty much in the same situation.  And UNPOPULAR OPINION ALERT, it's looking increasingly like Jerry Kill was holding back MN's offense, and they might be better off now than earlier in the season.
LPW: Indiana by a mile. I'm glad Northwestern isn't playing them this year.
Speth: Indiana and Minnesota. I mean they have to be, they took the totally awesome and not overrated at all unstoppable juggernaut coached by God himself Kirk Ferentz down to the wire. I hear the NCAA is investigating violations at both schools because there's no way those two teams could take an all time great team like Iowa down to the wire.
Townie: I think it's Indiana too. This team has a ton of talent. They just need to get some killer instinct. Some badass, find a way to win mentality. Unfortunately, they didn't quite get it together.
RR: Indie is pretty good, as long as they're not playing Rutgers in the 4th quarter. #scoreboard
GF3: Indy, and it isn't even a close debate.
Thump: Interesting to note: despite "parity-based scheduling," Illinois ended up with OSU and PSU as crossover games while Iowa got Indiana and Maryland. Illinois would be bowl-eligible with Iowa's conference schedule. However, I can't bring this up without acknowledging that Indiana is in the east, and therefore their schedule is harder than ours. My vote goes to the Hoosiers.
And there you have it. This weeks little dose of...ahem...wisdom, from your OTE "writers." You can genuflect in the comments below.
Your Friend(s),
The OTE "Writers"