It seems that the Summer - and by default, B1G 2015 - just keeps rolling along. When we kicked this off, it was cold outside, Purdue was the topic of disdain - not whichever coach we disdain, and I'm sure some of you were still in school - because we have students who should be studying not talking on OTE. All that has changed, and it's Penn State week. As always, I asked our esteemed* writers** to answer some questions about Penn State. This week we cover everything from win expectations to terrible offensive strategies, Canada to ice hockey, and a stellar Nittany Lion defensive line. A few rants were made, and fun was had by all.
This week's recipes pay homage to James Franklin, the second year coach at Penn State who once quipped that he would only hire an assistant after seeing his wife and then made some, "I hire men for how hot their wife is," joke, which, sure, whatever Jimmy. So, in honor of that comment, we're bringing out the hot and spicy foods.  As always, the dishes are links to actual recipes. Go click on them and tell me if they're good. I bet some of them are excellent. Got it? Good. Let's dig in.
* "esteemed"
** "Writers"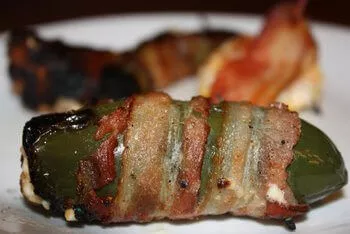 Penn State had its NCAA bowl ban lifted last year and in Coach Franklin's first go around, the Nittany Lions went bowling and won on some gutsy play by the Seniors who stuck around. While momentum – and really the idea that what you did in the bowl in general – is more or less nothing, it felt like it might be something for Penn State. Going into 2015, there are some good pieces to like including a stellar defense and a QB, Christian Hackenberg, who – on paper – has the athletic tools to be a star. With a bigger class of scholarship players, better recruiting, and some momentum, will we see Penn State challenging for the B1G East title?
Thomas Speth: [ed note: Thomas gave a disclaimer that he was a little tipsy (something about 24 Natty Lights in five hours or whatever) when he wrote his answers. I'm just going to copy/paste and let you all enjoy the madness -jc] Lol no. They won't beat OSU or MSU. But with that mid 2000s Wisconsin cupcake feast of a non-conference they'll win at least 8 games. Oh my gosh thank god for auto correct.
Andrew Kraszewski: Not this year, no. PSU's top-end players are mostly young enough that 2016 should be a really good year, but this fall they will fall well short of MSU and OSU for one large reason: utter lack of depth. Yes, we know you have lots of excuses you want to tell us about and those are all well and good but they won't change the fact that if a single lineman on either side of the ball gets hurt, your backups are pretty much guys who haven't played any meaningful snaps. If you miraculously make it through the year without a single injury on the lines, maybe you're still alive with that marshmallow schedule, but this probably isn't the season.
GoForThree: Not a chance. Unless there's a title for third in the east, which I assume would be a can of Ro-Tel and signed headshot of John L. Smith. Hackenberg has the tools to be a great QB. I have the tools to be a male escort. Neither of us has realized our potential, and my money isn't on Hack when he's going to play the best DL in college football and MSU's DL, too.
LincolnParkWildcat: My gut feeling is that it'll take a year or two for PSU to truly challenge OSU and MSU for supremacy in the east. They'll have to fight off Michigan and whatever one of Indiana/Rutgers/Maryland has a stellar season for the privilege though. Hackenberg is a good QB who eventually should not have to run for his life because of a bad o-line.
DJ Carver: Lol no.  Coach Hype might have a great recruiting class but one year isn't fixing that awful OL.  People are going crazy predicting 10 wins when it's probably going to be more of 6-7 again.  Penn State lost its two "best" offensive linemen, so I'm not sure how the line will improve to assist the W category.
Aaron Yorke: Not if Ohio State is still in the division. Penn State still has a chance to win a lot of games this year due to a soft schedule (both in and out of conference) as well as a hoard of returning players, but the offense has got to show something on the field before we start to talk about a division title.
MNWildcat: I don't know. Probably once Michigan State begins to fall off and in a year where PSU gets a favorable crossover schedule. Maybe 2, 3 more years? Perhaps if the FrankLion finds a good, experienced OC in the twilight of his career.
Candystripes for Breakfast: Depends on what you mean by challenging. Could they sneak in there if things go poorly at the top of the division? Sure, maybe. Will they still be in the hunt for the B1G East title by November? Doubtful. This is Ohio State's division until proven otherwise.
Mike Jones: Well, I guess we should look at who finished ahead of Penn State in 2014 and who they have to play this season. Better than Ohio State? Lol no. Michigan State? No. Maryland? Maybe. Rutgers? Probably. Michigan? Maybe. I think that Penn State will win more than two Big Ten games this season (reminder, Penn State won two B1G games last season) but I don't see them even coming close to challenging for the East. Primarily because there are at least two teams we KNOW are better than them.
Brian Gillis: No.
insertname: Nope, anOSU is too good this year
Last year, the Nittany Lions were anemic on offense. With a second worst offensive YPP (4.6), an abysmal rushing offense averaging 2.94 yards per carry, and a mediocre pass offense that had 15 interceptions to 13 TDs, you have to wonder if something was off. As noted before, Hackenberg has the look of a pro QB, but completing 55% of his passes and throwing more interceptions than TDs is a bad look. In conference play, he averaged 5.21 YPA and only threw 9 TDs. He's the bright spot for Penn State going into 2015. Akeel Lynch also has some potential at RB, but 4.6 YPC on 11 carries per game isn't inspiring a lot of confidence Obviously hearing all about this revamped line makes you think good things could happen, but this team looked lost. What should we expect from the Lions on offense? Do they need to make big strides here to compete? Was the change in system the reason for the awfulness last year?
TS: Well I don't think their near as good as MSU or OSU so they aren't going to compete anyway, but if they don't make huge strides there's gonna be a lot of disappointment in Happy Valley. If Hack looks like half the QB Penn State fans seem to think he is (and I don't even want to here about the 2013 game against Wisconsin, Joel Stave threw for 297 yards against OSU that year, sometimes not great QBs play well), then they should have no problems getting 8 wins. Throw in better line play and a running game and this team could win 10.
AK: As we've seen elsewhere (Michigan 2013, MSU 2012), bad OL play can throw the entire offense into chaos pretty quickly. Like I said above, PSU's got the players everywhere except up front where it matters most, the place where you can only do so much to hide your shortcomings. They were in most of the games they lost even with last year's bad offense, so you could argue they don't really need to be that much better, but even if they can win scoring 14 or 17 points a game, that's not football very many people will want to watch and more importantly, it exposes them to upsets they have no business giving up.
GF3: Yes, they need to make big strides. If you're doubtful of that fact, dig up the PSU at Indiana game from last year, brew a pot of coffee, slam a Monster, and try to keep your eyes open for 3 hours. Here's hoping the new OL allows The Franklion to realize the Wildcat's full potential. He's like a Soviet economic planner. "Zis is zee vey vee make great benefit Penn State Union viss much Wildcat and very much coal and nickel produktion." Give it up, man. You have a QB for a reason (that reason may be "tackling dummy").
LPW: Anemic on offense! HAHAHA! As always, the starting and ending point for a good offense starts with the line, and PSU's stunk worse than Saint Patrick's day corned beef and cabbage farts.
DJ: Huge strides needed.  Sure they grabbed a grad transfer on the OL and I think someone said they have redshirted freshmen that should be ok on the OL, but I don't think that is fixing the line that quickly.  I think they may start clicking towards the end of the year, maybe, but it'll be too late and Hackenberg could be gravely injured by that point.
Franklins bubble screens should have negated the bad line, but it didn't and I think that is really a stat to be taken in that even with quick hitch bubble screens Hackenberg was still left running for his life.
AY: I expect more running plays behind an improved offensive line. We saw this team move the ball on the ground towards the end of 2014, which is encouraging, but it won't be enough to beat Ohio State and Michigan State unless Hackenberg takes a big step forward. I don't blame the system for Penn State's performance last year. First of all, any system is going to struggle when you fail to establish a solid running game. Second, Franklin tried to make things easier on Hackenberg with a lot of quick, short throws... and the kid still only completed 55 percent of his passes.
MNW: Their offensive line was bad. Boom. Someone .gif me here.
MJ: Didn't you read the article? Penn State needs to get back to running the ball. Or more importantly, their line needs to be a little better than one of those swinging gates in a parking garage. I mean, at least those swinging gates fight back a little bit and crack your windshield if you hit them hard enough. I don't think the system change was responsible for majority of the problems. The line being LOL was.
BG: You phrased that well, that Hackenberg has the look of a pro QB. He struggled mightily last season, but much of that had to do with Penn State's woeful offensive line. And that's the real story in Happy Valley. Better offensive line play will be the key to not only Hackenberg's season, but Penn State's as well.
Conversely, the defense for the Nittany Lions last year was outstanding. Anthony Zettel returns to anchor a stout Penn State line, Austin Johnson will be a feisty Tackle next to him, and Nyeem Wartman will be a tackling machine. Add in a really smart secondary with returning talent everywhere, and you basically have a scary unit that could be better than last year. Without glaring losses, is this unit enough to push them over the top or are we giving them more credit than they are due? If we say that Hackenberg gets a bowl bump, do we also worry about this unit getting abused by BC?
TS: Assuming all things equal this defense is still only the 3rd best unit in the division. This could be a good team, but that's the ceiling. 11-2. That's the very tippy top. I can't see them being any better than that. That's a very good defense but they aren't top 10.
AK: The defense earned a lot of credit, no doubt, and the Zettel/Johnson combo has a good argument as the best DT pair in the country. We're all assuming Wartman, Bell and company will automatically be just as good as their predecessors, but let's see them handle those larger roles first. I'm also not at all sold on the edge pass rush, as both starting DEs are gone and the backups haven't shown anything yet. The DTs are good enough to provide some pass rush on their own, but until the replacements actually show they're as good or better than their forebears, it's not reasonable to assume the defense will be better.
GF3: Scary unit? Bro. Come on. Be serious here. It's great to put together big numbers against one good offense. Who did they REALLY shut down other than a baffling anemic OSU? Rutgers? IlLOLinois?
LPW: A good defense will get tired if the offense keeps having three and outs with a shitty o-line. Their stats looked good last year, maybe they'll be good this year? I don't know.
DJ: The defense will be stout and it will keep them in many games they don't belong to be in.  That being said, I don't think they're elite level good where they blank everyone to make up for the anemic offense that has no Ficken to kick tons of FGs to put points up.
AY: I'm very excited about this unit. If the new defensive ends perform as well as the ones that left the program over the summer, the defense will be as good as it was last year. Just like I'm not giving Hackenberg the benefit of the doubt from the BC game, I'm not that worried about the defense. It got burned by a couple of big running plays, but then held steady and allowed the offense to sneak back into the game. The defense is good enough to keep the scoring low in most games this season and allow Penn State to hopefully win some of the close games it lost last year.
MNW: Northwestern's offense in 2014 scored 22 points against Penn State's defense. Using the only metric I care about (how well my team did against you the last time they did something positive), yes. Penn State's defense should be worried.
C4B: I'll just remind you that this team won a game last year against Zander Diamont-led Indiana 13-7. Yes, they shut down Tevin Coleman, but they put up fewer points on Indiana's defense than pretty much everyone else on the schedule last year. That should be a worrying sign for anybody.
MJ: What does British Columbia have to do with anything?
BG: Penn State's defense is solid and should play well enough to keep its struggling offense in most games, but scary? No. The only scary defenses in the conference reside in East Lansing and Columbus.
Coach James Franklin is sort of a lightning rod. He has a way of making sure that everyone knows his name, and he is a recruiting savant. He also doesn't exactly have a lot of proven wins in his background and for as great as Penn State was at times last year, they still lost to Northwestern, a terrible Michigan, Illinois, and Maryland. That's not a recipe for success. Reasonably, what should we expect in year two for Franklin. With a Charmin-soft schedule, is it unreasonable to expect 9 wins? Moreover, what's the ceiling for Franklin at Penn State? Do you think he will bring home trophies to Happy Valley? Which ones?
TS: 8-10 wins. Assuming they lose to MSU and OSU and win all 4 non-conference games, they will have to have lose to 3 of Rutgers, Maryland, Michigan, Indiana, Illinois, or Northwestern to not win 8 games. That would be fairly embarrassing. Or losing to anyone in the non conference. This team really should win 9, but we'll see.
AK: Who?
GF3: Not unreasonable, but after that Maryland loss last year I don't put anything past Franklin. I wouldn't be astounded to see 9 wins. I wouldn't be astounded to see 6 either.
LPW: Right now he's coach hype. I mean, come on, he has a losing record to my Wildcats at PSU and Vanderbilt. I think PSU will get eight wins, with losses to OSU, MSU, Northwestern and Michigan. I think eventually when they get better they might bring home the Governor's bell trophy, provided it doesn't break again.
DJ: I'm expecting 6-7 wins but 9 is not entirely impossible if they get some outstanding contributions from freshmen on offense. In reality they are still one to two years away from competing at a high enough level to challenge for trophies and things, and even then they need Franklin to be a CEO and get out of the offense.
Graham Filler: I generally think Penn State is in perfect position to succeed (recruiting, tradition, good assistants). Is there tons of pressure on any coach at a PSU/OSU/UM because of all the history and entitled donors? Absolutely. But Penn State's seen the bottom fall out, complete with desecration of the person who built their program and bowl bans. So it's a different kind of pressure, a lesser form. James Franklin doesn't have to live in the shadow of JoePa, he gets to be his own guy and build his own legacy. So if Franklin gets cozy at Penn State, and wins a few games, and picks up a signature victory, well how about that??!!
I think a more interesting concept is that Franklin may move on after a few years, especially a few successful years, and that's okay. Penn State had JoePa for 800 years and the transition to modern coaching trends was especially difficult the way JoePa left. Coaches won't stay around for as long as JoePa or the old "lifetime coaches" did; now that PSU has accepted that or been forced to accept that (Bill O'Brien), the program will be more realistic and better off.
AY: At what point was Penn State "great" last year? When it was beating Rutgers and Indiana? That seems like a low bar. Anyway, I'm looking for enough offensive improvement in year two for the Lions to dominate their soft schedule. More push up front, more running plays, and more efficiency in the passing game. If that happens, we could see a 10-win season, but that number could be lower if the issues from last year persist. Franklin has shown the recruiting ability to make me think a future conference title is possible, but we have to see this team perform well on the field first.
MNW: He's an afraid-to-play-Northwestern coward who's now 0-3 against Pat Fitzgerald. WHERE YO HYPE AT NOW, BRAH?
C4B: Reasonable expectations for this year are probably around 8 wins, with a 2 game margin of error. Beyond that, joeybosa.emoji
MJ: I don't see why Penn State can't be the type of program they were in the late augts and challenge for a Big Ten Championship every few years only to get slaughtered by USC in a Rose Bowl. I also think it's too early to tell on Franklin. I don't think 9 wins is unreasonable…I just don't think it's going to happen.
BG: I don't understand why Franklin is the lightning rod that he is. He's a good coach, but he gets too much credit for some things (his recruiting prowess, for example) and too much grief for other things - like his time at Vandy. The Commodores were far better under Franklin than they were at any time in recent history, give the guy some credit. Will bring trophies to Happy Valley? Time will tell.
So here's the deal. Penn State has a hockey team. I'm going to go ahead and let everyone talk about hockey because I think we have a few writers who have words for what the Nittany Lions have done for the B1G Hockey league. I don't even have a question. Just talk about Penn State hockey people. Or complain you don't have a hockey team.
TS: GOD DAMN TERRY PEGULA AND RUINING WISCONSIN (AND MINNESOTA) BEING IN THE WHCA BY MAKING A BIG TEN HOCKEY CONFERENCE POSSIBLE. /drinks entire tray of Natty Light
AK: I don't miss the CCHA as much as the western critter enthusiasts miss the WCHA, so I'll yield the butthurt floor to them with the observation that when you're in a conference for pretty much every other sport and it picks up league play of another one you already play, you play in that conference. That's how this works.
As far as Penn State goes, good on you for finding your very own Phil Knight. Now if only there were another conference school that had an alumnus who was a similarly wealthy booster- perhaps this hypothetical figure has also constructed his wealth on athletic apparel- who loves throwing his money at things, we could add a 7th and then pressure Nebraska into getting their act together and then we'd be in business for real.
GF3: OSU hockey is a thing that exists. This concludes my thoughts on the subject. Go Minnesota Duluth.
LPW: Northwestern only has a club team. I'm indifferent to the realignment caused by PSU, but I know that most hockey fans here are white-hot angry about it. Right now I'm focused on the Blackhawks bringing home another Stanley Cup!!!
/ blasts Chelsea Dagger
// dodges sharp objects from MNW, WSR and Andrew Kraszewski
DJ: Maryland has no hockey team.  Maryland should have one but probably never will due to no arena, no space for said arena, and general lack of funds.
AY: I didn't follow Penn State hockey all that closely last year. I'll try to be more diligent in 2015-16 and find more games to watch on BTN. Casey Bailey was pretty good, wasn't he? And we won a lot of games because Wisconsin was bad. Maybe PSU hockey will keep getting better and we won't have to hear the good programs complain as much.
MNW: Fuck the Blackhawks.
C4B: Given that my hockey interest otherwise dropped off when the Avs missed the playoffs, I'm mostly watching the Stanley Cup Finals for some Jim Cornelison and Chelsea Dagger. As for the collegiate version of skateysticks, I am blissfully unaware of just about all of it.
MJ: Hockey? You mean ice lacrosse?
BG: I have no words for what the Nittany Lions have done for the B1G Hockey league.
insertname: Terry Pegula ruined what was the best college hockey conference.  The WCHA was filled with the western powers of the sport: Minnesota, Denver, CC, Wisconsin, NoDak, even Duluth won a title.  The other MN schools were always tough and UNO was a great recent addition.  Winning the McNaughton Cup (WCHA regular season champ) meant something.  That team was likely a 1 or a 2 seed come tourney time and survived a gauntlet of a regular season.  There were no off weeks in that conference.  The worst part for Minnesota fans is that we no longer have an exclusive TV deal.  This means that some games aren't even shown on TV!  (I'm sure Alvarez was more than happy to dip his hands into Minnesota's TV revenue...). And what the hell is with Michigan, OSU, and PSU wearing football helmets? No stripes, solid color and a logo please.
Since I can't change realignment, here are some positives.  Minnesota has had an easier path to winning its last two conference championships.   I think the Gophers still win the old WCHA in 2014 but no chance they would have won it this year.  We get to play the Michigan schools more often.  Both schools were in the WCHA prior to joining the CCHA and there is a history there.  The B1G has 4 programs that have won championships: MI 10, WI 6, MN 5, MSU 3.  If all of the programs can get up and running at full speed, this will be a power conference.
Ultimately, this is a good move for college hockey as the only way to gain more fans and become a more mainstream sport is for major universities (see: PSU, ASU) to expand the fanbase.  Hockey fans have an odd dual standard in that they want everyone to recognize the awesomeness of hockey but belittle newcomers and bandwagon fans.  As a Blackhawks fan, I see this with NHL fanbases too.  More bandwagon fans=more revenue=higher cap and/or more TV coverage.  If you want respect from fans of other sports/ESPN/sports media, you have to be welcoming of new fans.  More people liking your sport is not a bad thing. Sure many people will move on when their team is losing but plenty will stay and grow the sport.
Now for some thoughts on Penn State Hockey.  The fan support has been phenomenal these first two (three) seasons.  I hope the fan base doesn't get discouraged the first time the program has a setback.  It will be difficult to match the 4 championship programs when they are firing on all cylinders (right now it's Minnesota's turn to be the bully). I love that they have taken it to Michigan.  Gadowsky is a great coach and will build them into something but it will take time.  PSU will have to play more skilled hockey if they want to challenge for the B1G crown and make the tourney.  50 shots a game are great if they aren't all from the blue line and outside the circles.  If Penn State can maintain their results from last year the recruits will come.  I still think PSU is 2 or so years away from being a true contender in a non-historically bad year, but at least they are investing in their program and seem to want to compete (cough OSU cough).
I wish I could go back to the old WCHA but since that isn't an option at least two of you need to add a program ASAP so we can get to 8 teams.  A six team conference isn't deep enough to consistently prepare teams for the NCAA tournament.
and that ends my rant