Soooo the Personnel Files piece seems a bit wide open this year.  I've decided that I will take a quick look at the key new starters for the Maryland Terrapins, and three of our four previewed players come from the DMV where coach Edsall has prioritized his recruiting.  Hey, if you can't at least land the top end talent from your area, what good are you? Here we go:
Derwin Gray

and

Damian Prince

, RS Freshmen OL (RT and LG)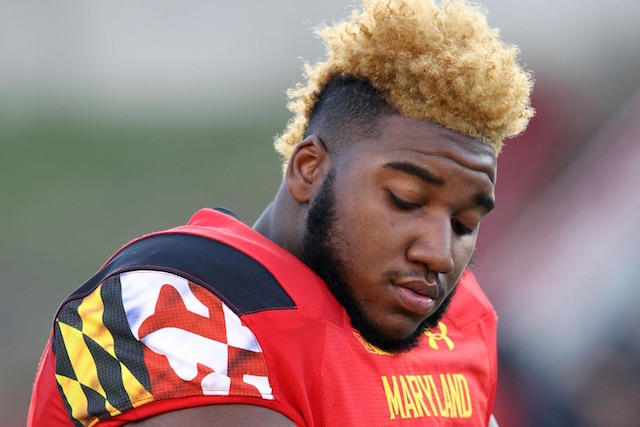 Derwin Gray is expected to start at Right Tackle this year for the Maryland Terrapins and while a new offensive lineman, especially in college, is not expected to make any huge improvements himself, any improvements to Maryland's not-so-great offensive line is a welcome site.  Combined with Damian Prince, another redshirt freshman offensive lineman, the two should make a noticeable difference to a unit that could only muster 0.28 yards per carry on 3rd downs with under 3 to go, a woefully awful push.  Granted, that can't be solely attributed to the offensive line play, but it was obvious when watching last year the line did not have what it took to compete in the Big Ten.
Both Gray and Prince are known for their physicality and should be a welcome asset in the run game.  Prince will step in at left guard while Gray, for the mean time, has been practicing at right tackle.  Both bring size that Maryland has been lacking, weighing in at an average weight of 320 for the both of them.  The both of them, combined with improved line play from the three remaining starters should improve from the 37 sacks the team gave up the year prior, 2nd worst in the Big Ten.
Jesse Aniebonam

, Sophomore DE
Jesse Aniebonam is probably the biggest beneficiary of Maryland's move from the 3-4 base defense to a 4-3.  He will be moving from the WILL LB position to DE, pairing with Yannick Ngakoue to form a formidable pair of DEs.  Aniebonam appeared in every game last year as a true freshman,spelling Ngakoue at the WILL spot or coming in for specific pass rush packages.  In his limited playing time he producted 14 tackles, 1 TFL, and .5 sacks.
Aniebonam was a consensus 4 star recruit out of the WCAC in DC, one of the toughest private school leagues in the nation.  He was the #2 recruit in the state in the 2014 class and came to Maryland with high expectations.  Aniebhonam will be expected to help replace the sack production that was vacated by Andre Monroe, who teamed up with Ngakoue last season as the main sack production for Maryland.  He is expected to take a big jump in his sophomore season as he moves back to his more natural 4-3 DE position.  His senior year of HS saw him as a consistent presence in the backfield, tallying 9 TFL, 49 tackles overall and 3.5 sacks.  He'll need to do better with sack production, but if he can make a living in the backfield in the TFL category I'm ok with it.
Caleb Rowe

, RS Senior QB
Caleb Rowe isn't really new perse but he has finally found himself not in the shadow of CJ Brown.  Many in the fanbase were calling for Rowe full time last year as CJ Brown proved to be very limited when teams took away his ability to scramble or run the zone read.  Now that he has his chance, as long as he doesn't blow another ACL he should be full sails ahead as the starting QB for the next two years.  Since he's blown that ACL twice now, he was granted a medical redshirt so even though he is a senior I believe he'll be in CJ Brown status as a 6th year player come 2016.  Rowe is a prototypical pocket passer with a laser of an arm but in his limited action backing up CJ Brown he has shown himself to have a gunslinger mentality as he has done his best Brett Favre impressions of throwing into contested areas.
All of that being said, if offensive coordinator Mike Locksley can tailor the offense to Rowe's strength's as opposed to the read option he favored under Brown then Maryland may be in for a pleasant surprise if he stays healthy.  Rowe will give Maryland the arm that everyone wished CJ Brown had, which should translate to better passing stats and assist with opening up the run game.  Rowe doesn't nearly have the legs that Brown had so the offense is going to look very different for Maryland this year.  I would wager that the OL blocking scheme will still resemble a zone blocking scheme, but many of the linemen have been bulking up into the 310+ range so a more traditional power scheme may be on tap as well.
Either way, we are in for some change with Maryland's offense this year.  The combination of a pro-style passer along with a bigger offensive line is going to look much more B1G to everyone and hopefully Maryland is able to thrive under it.  Rowe's presumed heir Dwayne Haskins is also a pro-style passer and along with the general size that Randy has recruited in the last two cycles I would guess that Maryland is going to resemble more of a Iowa/Wisconsin style system than the zone read they have been running.  I'm not uber confident as I still think the OL might be somewhat of a work in progress until next year when the last two year's of recruits on the OL start emerging but the foundation is being laid for a B1Gger offense.