Northwestern was the strangest B1G team last season. One week, capable of beating Wisconsin and Notre Dame(!) another, losing the Hat to Beckman and that motley crew of miscreants from that school in Chambana. MNWildcat and I will present the case that Northwestern will be better this year. Pull up a chair while our butlers bring out tasty victuals and rare craft beer/bourbon/brandy/what have you.
I. Case History/Opening Statement
A. Case History
LPW: Northwestern was a team that was capable of opportunistic brilliance, opposing team's derpage, good luck, and also, infuriatingly, Embracing the Suck. Pat Fitzgerald needs to ban that phrase from his vocabulary ASAP.
Opportunistic Brilliance: Godwin Ikwebuike was all to happy to pick off yip-addled Joel Stave to further ensure Wisconsin can't win in Evanston. /dodges beer bottles from Thomas Speth
Good Luck: Jack Mitchell continuing the tradition of breaking Irish hearts since 1995. /ht Vaudvillain
Opposing Team's Derpage: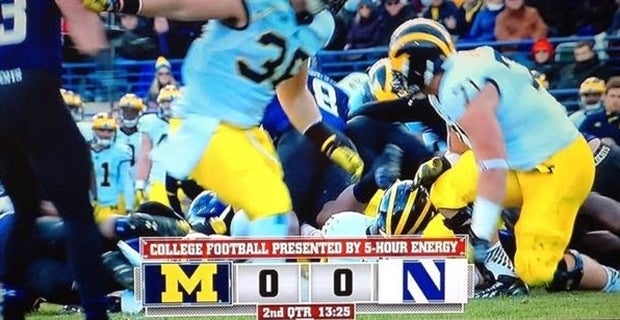 That game was so fucking depressing that even repeated shots of Malort won't erase it from my memory... UGHHHH.


B. Opening Statement
LPW: I'm optimistic about this year's team. Stud RB Justin Jackson returns for his true sophomore season, and we'll have a new QB this season.. We don't know who it is yet, so we'll just call him Mackton Thorvitiver. Anthony Walker will run the defense with Matt Harris, Traveon Henry, and others.
Also, the NLRB punted on the union issue earlier this week, so a proverbial sword of damocles is hanging over the head of the team is gone.. I was not a union supporter, but I'm glad that some changes have been made that might not have been made otherwise. This issue should be dead and buried, and the team should focus on one thing and one thing alone: getting to a bowl game! Any bowl game!
MNW: I'm less optimistic than my colleague butler. Teams know Jackson is coming, Mackton Thorvitiver will probably struggle to gain traction against a hungry Stanford defense, and the team's bowl eligibility may come down to winning on the road at Duke. DUKE! If you ever would have told me I'd write that last sentence, I'd have laughed in your face.
Anyways, members of the OTE jury, since you've heard about that whole union thing, I'd like my opening statement to leave you with this: Northwestern will show that they have cultivated the senior leadership to weather the union storm, and that leadership, coupled with an improved defense, will be at least a game's difference in the end-of-year record. The 'Cats will bowl again.
C. Timeline of Events
| Date | Opponent |
| --- | --- |
| Sept 5 | vs Stanford |
| Sept 12 | vs Eastern Illinois |
| Sept 19 | at Duke |
| Sept 26 | vs Ball State |
| Oct 3 | vs Minnesota |
| Oct 10 | at Michigan |
| Oct 17 | vs Iowa |
| Oct 24 | at Nebraska |
| Nov 7 | vs ttfp |
| Nov 14 | vs Purdue |
| Nov 21 | at Wisconsin |
| Nov 28 | at Illinois (at Soldier Field) |


II. Discovery
A. What We've Written About Northwestern This Off Season
Better Know An OTE "Writer" - LincolnParkWildcat
Better Know An OTE "Writer" - MNWildcat
Northwestern Cocktail Party Preview
Northwestern - Notre Dame Photo Gallery
Is Northwestern Trending Down?
No Fitzy, we will NOT embrace the suck!
B. What We Can Learn From Pop Culture
MNW: Do you see what I've done here?
I thought I was strong
But not the kind of strong I should be.
I thought I could find a way
To make you listen to me.

Now I'm here to give up the fight.
I couldn't make wrong things right.

CHORUS
Third time's the charm.
Just like the last time.
Just like the time before.
Third time's the charm.
I struck out big time.
Can't steal home anymore.

I looked into the mirror
And found that everything had changed.
The glass was empty
And all my words sounded strange.

Now I'm here to settle the score.
I couldn't win anymore.

CHORUS

Strong wind blowing through.
Bring me to my knees.
No sound from you.
Nothing to believe.

The people keep saying
What the people always say.
Get up in the morning
And find yourself a brand new day.
Now it's hard to face the shame.
I can't take one last game.
III. Emotional Plea
LPW: Before the 1995 season started, Gary Barnett coached up the team with the slogan "Belief without Evidence". Yeah, people thought him, an offensive coordinator on the 1990 or 1991 National Champion Colorado Buffaloes, crazy for taking the job, but in the span of two years he went 15-1 in the Big Ten. These past two years have been trying, but I believe that this is the year that Fitzy and the team can overcome all the distractions. 5-7 No more!!! I don't want another 5-7 season, and I fear that another one will turn me into something akin to a Nebraska fan tortured by PeLLLLini-itis. Or any Iowa fan suffering under the cruel pit of suck known as Kirk Ferentz football.
I'm optimistic and hopeful that we can get this turned around. Call me crazy, call me whatever, but I believe, dammit! Its our year to be better than 5 - 7!
MNW: About a month ago, as I was reading some OTE commenters and other blogs run down the path their team would need to take to reach bowl eligibility/8-4/10-2, I couldn't help but notice a theme: every single last one picked their team to beat Northwestern. Ladies and gentlemen of the jury, it took everything in me not to lash out, or to reduce my anger to a bad Rodney Dangerfield routine, or to snipe back something about them being Purdue fans.
And so I stand before you a broken man but a changed man. I thought Northwestern had broken me as a student, what with Hails Mary (yeah, we have to make it plural) and last-second field goals and Outback Bowls and any other kind of heartache. But how spoiled I was. How spoiled, ladies and gentlemen of the jury, I was to not realize the wealth of riches that was five consecutive bowl berths for my Northwestern Wildcats. How spoiled I was to think that a 10-win season and a bowl victory meant anything more than a program trending in the right direction.
Then 6-14 happened. Union happened. Losing to Cal, NIU, and Illinois at home happened. More union fights, more losing, and more injuries happened. Now Northwestern, ladies and gentlemen, is in danger of returning to its mid-aughts self: a plucky, scrappy team that just might find the right side of 6-6 with a little elbow grease, but that most teams aren't afraid to throw on the homecoming platter. That cannot happen.
No doubt others will flood the comments, laughing about number of fans or tarps in the stadium or some other marker of how Northwestern lags behind its counterparts in most standard college football metrics. I'm sure some other writers will throw particularly witty barbs about the Northwestern program. We'll enjoy them. But remember: for every laughing Ohio State or Nebraska fan that leaves Ryan Field, there's a sad Iowa or Wisconsin fan who leaves in a similar fashion. And you know you want that. You need that, because that fuels the gaping maw that is the ill-will and contempt you hold for every single fan of that school.
So give us our bowl eligibility. We'll keep giving you your schadenfreude. And maybe--just maybe, on October 17, when a small smile cracks across your beer-and-Cheetos-covered lips, remember what team made that possible.
IV. The Verdict
"Writer"
Record
Aaron Yorke
4-8 (1-7)
Brian Gillis
6-6 (3-5)
MNWildcat
5-7 (2-6)
Ray Ransom
5-7 (2-6)
DJ Carver
6-6 (3-5)
Candystripes for Breakfast
5-7 (1-7)
babaoreally
6-6 (3-5)
Jesse Collins
4-8 (1-7)

Mike Jones

5-7 (2-3)
LincolnParkWildcat
5-7 (2-6)
GoForThree
5-7 (2-6)
Hilary Lee
5-7 (2-6)
InsertName
6-6 (3-5)
WhiteSpeedReceiver
5-7 (2-6)
Graham Filler
5-7 (2-6)
OTE Staff Average:
5.1-6.9 (3.3-4.7)