Big Ten basketball tips off tonight!
...well, only in the strictest sense of the word—the exhibition slate of the Big Ten shootyhoops season tips off tonight, and we've got a couple games on BTN+ for those of you jonesing for some red-hot Michigan State-on-Upper-Peninsula action!
But first, more importantly, I'd like to take a moment to talk to you about mascots.
Mascots are an integral part of the pageantry of college sports [/glances at Michigan]. Whether it's a person wearing a large nut on their head, an anthropomorphic [insert cat/bird/dog/fish here], a tree with a BAC of .157, a creep with soulless eyes and hammer who has to go door to door when he moves into a new neighborhood, or something you rescued from a trunk in your grandma's attic before you gave it to Goodwill, the mascot gives us something to laugh at, something to cry about, and something to pedantically post about in online comment sections YES I KNOW THE TRAIN IS THE ACTUAL MASCOT OF PURDUE, NO ONE GIVES A SHIT, YOU HAVE A SEX PREDATOR MASCOT SHUT UP.
Anyways. Where was I? Oh yes, mascots.
Not every school, you see, is as lucky as most of us in the Big Ten to have the historical editorial cartoons, journalists' accounts of 1920s football games, or state symbols to draw on for their mascot. No, many of our friends in the lower reaches of college athletics have to rely on whatever passed for a creative department* when their schools added athletics programs in the 1950s and decided they needed a mascot to go with it.
*A note: Some schools, like UW-Eau Claire, will take mascots like "Blugolds" and let the myth-making of college campuses run amok. I neither know nor care how Blugolds originally came about; instead, I prefer the story my AP US History teacher, a UWEC grad, taught us about a kid with the surname "Gold" passing out stone cold drunk under the Chippewa River bridge on a cold night and being discovered the next morning, alive but rigor mortis-looking in the face, prompting another to shout "Hey! Look at Blue Gold!" Some stories don't need to be corrected.
Anyways, I'd like to introduce you not to the teams themselves, because no one cares what passes for a 6'6" center at Minnesota-Duluth, but to their mascots.
Illinois Wesleyan Spartans
Who they play: Illinois
Mascot Rating: 3/4 (of his grandparents were related)
This is what happens when the ruling class of Michigan State is allowed to do nothing but inbreed for hundreds more years than the actual Spartans got. (Actually, that's a pretty good metaphor for the Board of Regents saga...)
This Spartan, tired and possibly having an infected chin, heard you said something very mean about how it looks exactly like Michigan State's Sparty used to, and he would like you to know that his name is Sporty, and there is POSITIVELY NO RELATION between the two, no sir.
Southern Indiana Screaming Eagles
Who they play: Indiana
Mascot Rating: 8/9 (letters correct)
I was prepared to be annoyed when I just saw the eagle logo (sans words) on the Indiana men's basketball schedule page. "Oh great, another eagle," I thought to myself, "wonder which D-I program they ripped this guy off."
Then I saw the lettering. Ladies and gentlemen, nearly every college mascot is improved when you add an unnecessary adjectival gerund in front of it: Fighting Leathernecks. Fighting Camels. The only points I would deduct from the Southern Indiana Screaming Eagles are, first, that they chose a pretty generic mascot to modify (part of the brilliance of the Campbell Fighting Camels is that your mascot is already something weird as shit, but you made it even better!), and second, the same beef I have with every gerund-modified mascot: DROP THE G. I don't need you to be the Fighting Camels, I need you to be the Fightin' Camels. LOOK HOW JAUNTY! LOOK HOW TOUGH! SOMEONE CARED ENOUGH ABOUT HOW SCREAMIN' THESE EAGLES WERE TO DROP THE G; I'M NOT FUCKING WITH THEM.
Guilford College (NC) Quakers
Who they play: Iowa, oddly
Mascot Rating: KINDLY GET OFF MY LAWN, I AM WAITING FOR MY INNER LIGHT
I'm gonna just go ahead and assume that Fran McCaffery has some sort of East Coast connection with Quakers' HC Tom Palombo, who—oh dear God LOOKIT THAT MUSTACHE.
How am I even supposed to talk about the Quaker mascot who was clearly sketched in 1935, then had the "G" added to his chest in 1975? I am not. I cannot. There is only Tom Palombo's mustache.
Lynn University Fighting Knights
Who they play: Maryland
Mascot Rating: +1 tussle, -1 sword
ANOTHER COLLEGE THAT GETS IT.
I don't know or care where Lynn is, because the Fighting Knight embraces all that is right about the "Fighting" portion of his moniker (minus, as usual, the unnecessary "G"). Does this knight have a sword, pretty much the one thing that helps him in a fight as he is encumbered by all that weighty armor? NO! He is a modern knight, prepared to get into a bar scrap at a moment's notice because someone had the audacity to make a joke about Lynn being a girl's name.
Northwood (MI) Timberwolves
Who they play: Michigan
Mascot Rating: (two paws up)
Northwood is sort of around the wart on your index finger's base knuckle, using the Hand Method of Michigan Geography which is part of their 4th Grade curriculum and actually shows up on standardized testing, oddly.
As a bitter Minnesota Timberwolves fan, I would like to commend Northwood on their excellent Timberwolves logo. No, lime green is NOT a color that should be found in a logo representing a Northwoods team (forest green is), and the Midland-based school gets it right: Simple blue colors, and an expertly-placed paw print for the "O" in Timberwolves. This is how a logo/mascot should look, kids. Good job, Northwood. Go Timberwolves.
Northern Michigan Wildcats
Who they play: Western Michigan
Mascot Rating: 7/10 (run a comb through your fur, fergoshsakes)
Look, more important than anything I could tell you about this mascot that definitely shocked himself getting out of bed and stepping on the carpet this morning is that Northern Michigan plays in the world's largest wooden dome, the aptly-named SUPERIOR DOME:
That's Northwoodsy as fuck. I want NMU and Northwoods to battle it out to see who is Northwoodsiest. Finlandia can take on the winner.
Minnesota-Duluth Bulldogs
Who they play: Minnesota
Mascot Rating: Fuck UMD
Something you all probably remember about me but don't really care about is that I'm from Minnesota and grew up a Gophers fan. Well, the one casual University of Minnesota allegiance I still hold onto is my Gopher hockey fandom. The stick in my folks' basement signed by the entire 2002-03 championship team? That's mine, and my siblings wouldn't dare dream of touching it—not even the one who goes to the U right now.
Anyway, that's why I was thrilled when the Gophers, for the first time in what felt like forever, opened the season with a tie at Amsoil Arena and followed it up with a home whuppin' of the #1-ranked Bulldogs. Stupid jowly little inbred things.
Duluth's lovely, though.
Wayne State College (NE) Wildcats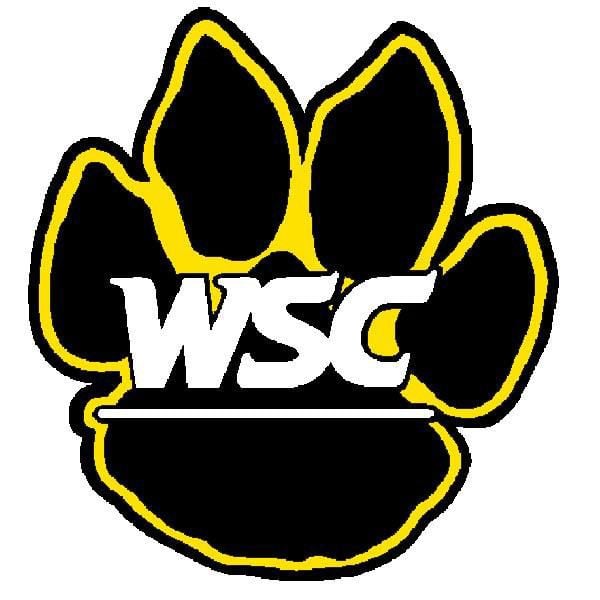 Who they play: Nebraska
Mascot Rating: :30 (seconds I wasted while thinking Nebraska was playing the Michigan version of Wayne State)
It's important to note that this is not the last member of the Northern Sun Intercollegiate Conference that the Huskers will play in 2018! No, Nebrasketball has a non-conference game (which, remember, don't count against RPI) with Southwest Minnesota State (the Mustangs!) lined up for December. If you ever find yourself in Marshall, MN, do two things:
(1) Ask yourself "why am I in Marshall?"
(2) Go to Brau Brothers Brewery.
Anyways, Wayne State College has a paw print, anthropomorphic Wildcat mascot, and not much else. This has been a waste of my time.
McKendree Bearcats
Who they play: Northwestern
Mascot Rating: 9/10
This looks, realistically, like what I suppose a Bearcat would probably look like in the real world. I don't have much creative to add, to be honest, other than that I'm glad this is just an exhibition for Northwestern this year, rather than a non-conference game.
UNC-Pembroke Braves
Who they play: Ohio State
Mascot Rating: n/a
There's nothing funny to say about UNC-Pembroke, a Native American-serving institution in Robeson County, a majority-minority county about 90 miles from the ocean. Pembroke, founded as part of the Lumbee Nation's efforts to preserve its heritage and train public school teachers to serve the local Native population (88% of Pembroke is Native), is one of those schools facing a constant uphill battle in funding its educational mission and serving students from at-risk populations, particularly in the context of North Carolina politics.
The Brave has served as UNC-Pembroke's logo since the 40s, and the red-tailed hawk was added in 1992.
West Virginia Mountaineers
Who they play: Penn State
Wait, what?: I'll explain.
Penn State and West Virginia are playing a charity exhibition this Saturday, with the proceeds going to hurricane relief efforts. Read about it and follow links to donate here.
Marian University (IN) Knights
Who they play: Purdue
Mascot Rating: WHAT THE FUCK
I mean, it's not every day you find a mascot who can match Purdue Pete, creepy eyes for creepy eyes, right? THIS GUY'S KILLED, AND HE'LL KILL AGAIN, TOO.
What I especially appreciate about the Marian mascot, Knightro, is that he has "Knights" emblazoned across his breastplate. Not "KNIGHTS", mind you, but a tastefully capitalized "Knights". This has two effects:
(1) Puts people at ease. He's a knight, sure, and you're likely a Livonian heretic who's just cast a spell using fresh pine branches, but at least you know he's not one of those ANGRY KNIGHTS who's going to scream as he kills you, and
(2) Helps him never confuse his armor with those of the Muslim knight equivalents*, the furusiyya. It's the medieval equivalent of putting your name on your underwear.
UW-Oshkosh Titans
Who they play: wisconsin
Mascot Rating: 6 stubbed toes
While the Titans of the underworld were, I think, something to be feared (ask MountainTiger; I'm not an expert in things we understand from finding one or two documents and calling it "history"), I'm not sure I'm afraid of Oshkosh's Titan. He's got the lightning bolt, yes, and that helmet and scowl definitely say "I mean business," but...look at those feet! The guy clearly ran into the door or something, because those things are swollen as shit.
Does he have gout? Is he diabetic? I just wish Speth was here to tell me the history of the UW-Oshkosh Titan and how awesome wisconsin football is.
Oh right, the games! Did you want a schedule?
Here you go. All times CT:
| | | | | | |
| --- | --- | --- | --- | --- | --- |
| Team | Date | Time | Opponent | Watch | Notes |
| Illinois Fighting Illini | 2-Nov | 7:00 | Illinois Wesleyan | BTN+ | |
| Indiana Hoosiers | 1-Nov | 6:00 | Southern Indiana | BTN+ | |
| Iowa Hawkeyes | 4-Nov | 2:01 | Guilford | BTN+ | 2:01? Fuck you, Iowa. |
| Maryland Terrapins | 30-Oct | 6:00 | Lynn | BTN+ | W, 100-67 |
| Michigan Wolverines | 2-Nov | 6:00 | Northwood | BTN+ | |
| Michigan State Spartans | 30-Oct | 6:00 | Northern Michigan | BTN+ | W, 93-47 |
| Minnesota Golden Gophers | 1-Nov | 7:00 | Minnesota-Duluth | BTN+ | |
| Nebraska Cornhuskers | 1-Nov | 7:00 | Wayne State | BTN+ | |
| Northwestern Wildcats | 2-Nov | 7:00 | McKendree | BTN+ | |
| Ohio State Buckeyes | 1-Nov | 6:00 | UNC-Pembroke | BTN+ | |
| Penn State Nittany Lions | 3-Nov | 11:00 | AT West Virginia | AT&T+ | Hurricane Relief Charity Exhibition |
| Purdue Boilermakers | 1-Nov | 6:00 | Marian | BTN+ | |
| Rutgers Scarlet Knights | - | - | - | - | No game listed. |
| wisconsin badgers | 2-Nov | 7:00 | UW-Oshkosh | BTN+ | Cancer Awareness Game |
Feel free to talk about the games, your basketball team, or anything else B1G hoops or D-II mascot-related here! Tell us about your alma mater's weird mascot history!
We'll have more detailed previews or thoughts or ramblings about Big Ten basketball at some point in the next week.
Poll
The best exhibition opponent's logo/mascot is...
This poll is closed
Illinois Wesleyan's definitely-not-Michigan-State-Spartan

(5 votes)

Southern Indiana's SCREAMIN' EAGLE

(6 votes)

Guilford's Get-Off-My-Lawn Quaker

(16 votes)

Tom Palombo's mustache

(8 votes)

Northwood's actual timberwolf

(12 votes)

Wayne State's generic wildcat

(3 votes)

I appreciated learning about UNC-Pembroke, MNW. Thank you!

(19 votes)

Knightro could TOTALLY murder Purdue Pete

(34 votes)
133 votes total
Vote Now