No more beating around the bush: Northwestern added a notable transfer in 2018.
Everyone, let's welcome Western Kentucky punter Jake Collins! The Louisville native will play as a grad transfer in 2018, having graduated from UL with made the . He's stepping into the Northwestern program made to take on graduate transfers, the Master's in Integrated Marketing Communications (Talks for Jocks, I prefer). Over three years as a Hilltopper, Collins racked up multiple C-USA honors, was a perennial Ray Guy Award Watch List honoree, and averaged 41.3 ypp.
He also did this.
So, you know, you take the good with the bad.
Oh shit, sorry, we're talking about former 5* Clemson QB Hunter Johnson, who will take his talents to Evanston and become the heir apparent to rising senior Clayton Thorson after sitting out the 2018 season.
The basics: 5* recruit. From Brownsburg, IN. Played a little for Clemson in 2017, mostly mop-up duty, some actual play against Wake Forest. His brother, Cole, was a reserve WR at Northwestern.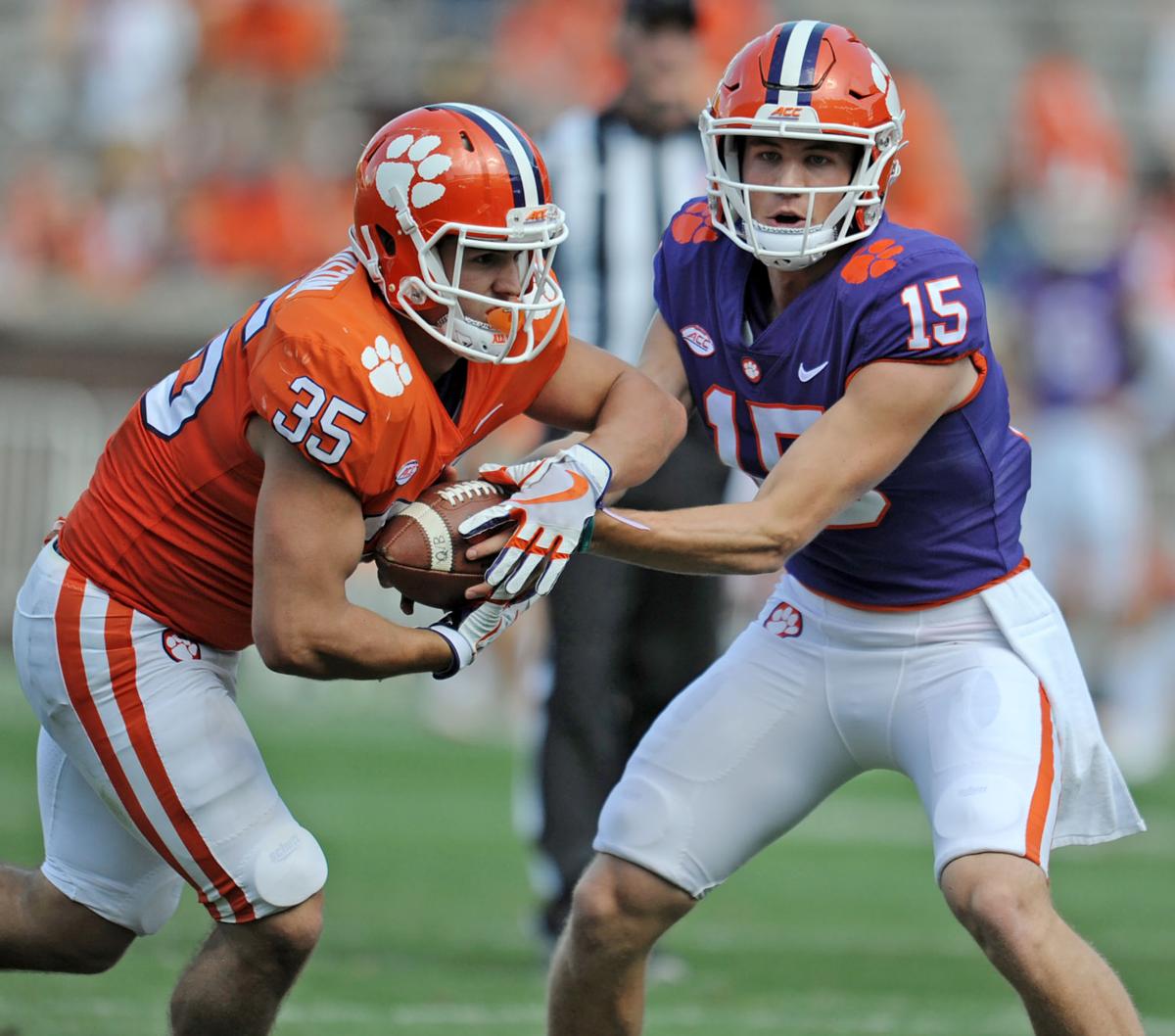 Analysis: Might be good. Is probably good. I'm sure multiple Northwestern bloggers are now experts on his passing style from watching highlights of his Wake Forest game, so you can go read them telling you how well they know him.
In all seriousness, Johnson has the potential to be a program-changing transfer. He is not dogged by the injury reports that plagued our other 5* transfer, Kyle Prater (formerly of USC), and by all accounts, his departure from Clemson is because Dabo Swinney is somehow too good at recruiting quarterbacks.
Moreover, Johnson gets a year to adjust and fit right into the Northwestern offense. It should be a seamless transition from Clayton Thorson (once he's healthy again) to Johnson, who will have that time to develop a rapport with WRs Ben Skowronek, Riley Lees, and Jace James, along with returning RB Jeremy Larkin. Yes, it's still Mick McCall calling the McPlays. But somehow, in spite of him, Mike Kafka got a cup of coffee in the NFL, Trevor Siemian is my front-runner to beat out overpaid glory boy Kirk Cousins for stewardship of my favorite dick-punchers, and Thorson is now getting the Mitch Leidner treatment.
Northwestern's earning (however undeservedly) a low-key reputation as a place to go for quarterbacks with the measurables to catch on with an NFL roster. That has now parlayed itself into a 5* quarterback, and in 2019 we'll see if the 'Cats have put together the offense line and scheme to make the most of this golden opportunity.
Oh God, I'm talking myself into the idea that this could be good. Shit.
To balance myself out, I looked to my OTE colleagues for reassurance:
[1] We've seen SI already hail Northwestern, because of Johnson's addition, as the team that could end wisconsin's dominance of the Big Ten West. On a scale of 1 to 10, with 10 being most plausible, assess that statement and show your work.

[2] Give us both a cautionary tale and a THIS'LL WORK OUT story of a transfer who failed to or successfully changed your program.
LPW: Worked out: Zak Kustok. Thanks Notre Dame and kindly get fucked!
Didn't work out because his body quit on him: Kyle Prater.
Thumpasaurus: I was about to bring up Kyle Prater as an example showing that 5* recruiting transfers don't always pan out. Is Northwestern now Diet Michigan instead of Diet Wisconsin? "This former five star quarterback transferred and is sure to be the piece that makes this team finally win the division!"
Are you baiting me into saying JEFF GEORGE? Because if so, good work. Jeff George came in from Purdue and proceeded to win ten games in 1989 on his way to the top overall selection both in the NFL Draft and the "Most 1989 Mustaches of All Time" award.
On the other end of the spectrum is Wes Lunt. Through no fault of his own, Wes was not the savior we thought we'd found. He would have been better off staying put. He would have been a great air raid quarterback, but that's not at all what we did with him. Instead, we plugged him into a weird "Bill Cubit tries to Big Ten" offense that led to him getting sacked a lot. If he'd had a good qb coach at a different school, he'd have been drafted.@
WSR: Oh, it's absolutely a 1. I'm just not sure if it's because nobody will ever surpass wisconsin (just ask a wisconsin fan), or because Nebraska and Iowa and Purdue and Minnesota are all going to the Rose Bowl in 2019. (For the record, I really hope it's a no disqualifications match because I think that PJ would absolutely have his stable run out and would use a steel chair, while Brohm will be distracted by whichever real job he's about to accept, Frost will just use some 90's gimmick that everyone will see coming, and Ferentz is too honorable to take advantage of everything at his disposal to win.)
Does a JUCO transfer count? Because if so, lemme huff some absynthe real quick before I revisit the tale 5-star WR Hayo Carpenter, whom Tim Brewster beat Florida for. In one of the few plays he made, he got ran down by a wisconsin DE who had to come across the field.
Creighton: I'm not worried about a grad transfer QB. Fitzgerald will find a way to screw it up. I give Tarpwestern a 3. They'll probably finish above Minnesota, so good for them. What? They added a grad transfer punter? Shit I'm changing my answer to a 10.5, maybe an 11. Iowa added grad transfer punter Ron Coluzzi a couple years ago and he's easily in my top 10 favorite players of all time. Punting is winning.
Iowa's best transfer? Brad Banks was a former UCF Knight who came to Iowa and went 11-2 as a senior and went on to be an All-American, Heisman Trophy runner-up and Davey O'Brien trophy winner. Honorable mention goes to Shonn Greene who wasn't technically a transfer, but he left Iowa for Kirkwood Community College for a year before coming back and became a unanimous all-american who also won the Doak Walker Award and Jim Brown trophy.
Jesse: I mean… let's just do QBs. Scott Frost YAY! Literally every other Nebraska transfer QB BOOOOOOO… (I'm sure some Nebraska fan will be like, "But what about Joe Ganz!" to which I'll be like, meh)
Beez: I'm a Wisconsin fan and therefore required to say nobody will ever unseat Wisconsin as the best in the B1G West. But also, it'll be very helpful for NW to have a good QB who can sling the ball around all over the place! Unfortunately, because of NCAA transfer rules and the fact he already wasted some years at Clemson, he's gonna need a lot of heirs apparent to his reign to make any dethroning of Wisconsin stick.
Wisconsin transfers: That Russell Wilson guy really worked out. That Danny O'Brien guy realllllllly did not work out at all.
Candystripes: For this year, I think we're looking at a 5, primarily because this has to start with Wisconsin having a down year. If we take as gospel that Wisconsin will actually not win the West this year, I think the number goes up to an 8; very plausible, but still requires a few too many things to go well to be a fait accompli. The major stumbling blocks I see are primarily opponents, though most of the biggest tests come at home for the Wildcats. But again, unless Wisconsin is definitely bad, this discussion is kind of moot.
As far as transfers go, can I count "recruits who committed, decommitted, played somewhere else, left that program and walked on to yet another school, and never really did well at any of his stops"? Because if so, Gunner Kiel, hands down.
MC ClapYoHandz: On that scale, 2. The card said to go with 2.
---
I don't know why I ask these people for help. Anyways, we want you to weigh in on this! Vote in the polls, answer the potluck questions in the comments, and generally continue shitting on Northwestern football, you crazy kids!
Poll
How does the arrival of Hunter Johnson change the trajectory of Northwestern football?
This poll is closed
Should win a Big Ten West title

(34 votes)

First in line to challenge wisconsin, but nothing more

(41 votes)

Same Northwestern as ever

(60 votes)

Subtraction by Addition: The Mick McCall Experience!

(10 votes)
145 votes total
Vote Now
Poll
In terms of transfer success, Hunter Johnson will be more of a...
This poll is closed
107 votes total
Vote Now