Midwest Week rolls on. Have you voted in our poll on the states of the Midwest yet? Go do that! We've got almost 250 300 responses already (wow!), but we'd love more.
Eventually, too, there might be some actual content here, but in the meantime you get me shitposting vanity articles about my life or the Midwest, in part because I study it for fun and profit (Midwestern history is a legit and resurgent thing) and in part because a little nostalgia once in a while is a nice palate-cleanser.
---
Desperation Nostalgia and the cover photo of Mount Rushmore from yesterday's piece set me to thinking—was Mount Rushmore the quintessential "Midwestern kid vacation?" My family headed there, as it seems like every family from suburban St. Paul did at least once, when I was ten: We hitched the pop-up trailer behind the minivan, made plans to stop in Chamberlain, SD, and visit my dad's best man, and chased the setting sun down I-90.
From there, we had...well, everything you'd expect: our car being stopped because buffalo were crossing the road, pulling under an overpass for 30 minutes as a prairie thunderstorm made the highway impassable, pictures of chicken-legged MNW and his younger siblings in from of Mount Rushmore and Crazy Horse...
What the Midwest lacks in a Coney Island or Disneyworld, it makes up for in Cedar Point, the North Shore, and—depending on your definition of the Midwest—Mount Rushmore and Branson. As such, I sent a hurried message to a few fellow writers this morning, and they were gracious enough to respond:
(1) Tell us about a childhood vacation that stands out to you as memorable, was a particular tradition, or otherwise mattered.
Jesse Collins: Summer vacations growing up were generally just obligations to go see my grandparents in central Kansas, and while I didn't appreciate it at the time, I look back really fondly on those times. While I have probably bemoaned the entire state of Kansas more than a few times here, I must admit that grandpa and grandma's farm - even with the searing heat and humidity that came with late July summers - was a paradise. A place where you could find the best watermelon, get fed amazing mennonite food, and walk around for hours. Now that both grandparents are gone, it's hard to realize that those times are long gone, but they were very summer and pretty great.
On the negative nostalgia side of this coin is Branson. We went to Branson a lot and it's a terrible place. Why all rural Nebraskans end up in Branson continues to baffle me, but that's just a thing that happened. I once went to a place where they reenacted the civil war and I'm pretty sure the southerners won that night which is so weird. The only upside to Branson was getting to hang out at a lake. Lakes aren't all bad.
BigRedTwice: I was lucky enough to travel frequently as a child, and almost all of my travel memories are good ones. But I know the bad ones are funnier. We went to Yellowstone when I was probably in about 3rd grade or thereabouts. Two things happened to me when we got there.
First, I kept sneaking crushed potato chips to a chipmunk at our cabin, even though my parents told me to stop it. The little effer BIT me for my trouble! (In his defense, he was trying to eat the chips... I think.) Anyway, I was CERTAIN I had rabies or was going to get them, but I couldn't tell my parents, because they'd told me not to feed the chipmunk in the first place.
Second, and it may have been that same night, I had one of the most terrifying dreams I can recall--there was a huge slug with like a thousand feet (so not a slug, really) on the side of the road. I can still picture it perfectly. It really was huge--think, the size of an Airstream camper. Everyone was pulled over to the side of the road looking at it (because, Yellowstone.) I don't remember it doing anything particularly villainous in the dream, but I was so disgusted and horrified by the image that I laid awake all night in terror of the giant slugs of Yellowstone. It was probably a side effect of early-onset rabies.
Anyway, next week I'm going back to Yellowstone for the first time since then. Wish me luck.
MNW: While I mentioned Rushmore, it wasn't the classic for me...that would be our many trips down I-94 to Warrens, wisconsin, for a stay at Yogi Bear's Jellystone Park. Did it almost every year from 1994 to 2008.
There was nothing particularly special about it—mini golf, a swimming area with a waterslide until they built a big, stupid waterpark, and our favorite, Yogi Bear cartoons in the big amphitheatre. We kids would just hop on our bikes or scooters, fix the little light to the handlebars, and roam freely, as long as we were home by 11. Those were our favorites.
Andrew K: Well we didn't do vacation much when I was a kid because my dad hated paying for airline tickets, driving long distances, sand, hot temperatures, and most other vacation accoutrements.
For the fireworks, we would typically watch them from the Court Street bridge in Saginaw, which the city would close for the fireworks so you could watch them over the river with the skyline (if it could be called that) in the background.
Thumpasaurus: As you may remember, I visited my fiftieth US state a couple years ago. This was made possible by my parents' longstanding preference for the Great American Road Trip during my youth. From the Chicago suburbs, we drove to places such as Pikes Peak, Glacier National Park, Yellowstone, the Badlands, the Grand Canyon, Dallas, Daytona Beach, the Finger Lakes, Bar Harbor and countless places in between.
I've seen so much of the beauty of the US from the ground, but there was so much more America to it than that. On these trips I also saw all but one of the remaining Union Pacific Big Boys, the largest steam locomotives ever built. Trains, particularly steam engines, were one of my first profound obsessions.
One of my favorite memories was when my dad straight-up trespassed into the Union Pacific train yard in Cheyenne. After driving onto their property, he just walked us into the steam shop. We had absolutely no permission to be there, but I guess the crew working on maintaining the UP steam fleet was excited that someone would bother to trespass there because they just spontaneously gave me a tour and showed me around the cockpit of a working steam locomotive.
1998 was a simpler time.
WhiteSpeedReceiver: Of all my childhood vacations in the United States, two stand out: In 1992 we went camping on Memorial Day in a tent, and woke up with to a couple inches of snow near Osakis. That was one that my Step-dad still swears about whenever it's brought up.
The other was a trip to Yellowstone National Park the following summer. The one key event that stands out from this was a herd of buffalo walking up to the cars stopped on the road, and one coming right up to our F-150. This thing was just enormous. It probably could have tipped us over without even breaking a sweat.
Inside the truck we were all nervously waiting to see what it would do in silence, when one member of the family decided that he didn't want to wait and he wanted a piece of that big sonofabitch: my dachshund. The image of that little hound barking his ass off while the enormous beast outside just looked up, huffed once (and steamed up the entire passenger side window), turned, and walked away will never leave my memory. It was just the best.
(2) Plans for the 4th? Anything you do that's worth sharing?
JC: My fourth of July plans are really pretty tame. Just grilling with friends, probably trying to find some fireworks, and going to bed because it's a Wednesday and I'm old.
BRT: I'm visiting a friend near Seattle! They have four kids, so I guess we are doing whatever people with small children do for the 4th of July.
What we won't be doing is sweating--I'm super enjoying the Pacific Northwest version of "summer" weather right now.
MNW: Pretty jam-packed day on the Fourth: Golf with a buddy during the day while the wife works, Minnesota United plays Toronto at 6pm and I have tickets...then driving up to Casey, wisconsin, with the wife and cat in tow to join her parents at their cabin for a few days. I've planned out a route that takes us past a couple different cities having fireworks.
Why not wait until Thursday morning to drive? Well, we're leaving for a cabin on the Iron Range on Saturday morning, and in-laws need a certain number of nights with us or they shrivel up, apparently. But a few days up in northwestern wisconsin, followed by a day and a half up on a beautiful Iron Range lake with beer and bloodies galore. Nice to relax.
AK: I've been happy to forge my own path as an adult,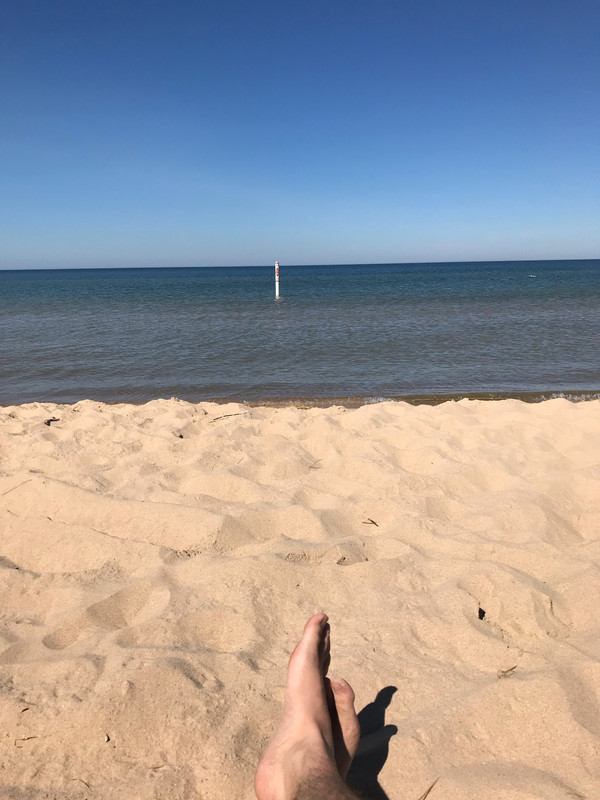 and I type this response from the beach on Lake Michigan, entering Day 4 of what I'm trying to turn into an annual tubing/camping/beach extravaganza.
Thump: I can't fight the Old Person Thoughts anymore. I'm going to do a bunch of yard work.
WSR: As of right now, there aren't any big plans.
If the weather holds off we'll probably go to a family member's house so the everybody can play in the pool and with other water-related stuff, we can grill, and my brother-in-law and I can drink too much and have a thoroughly entertaining (for the onlookers) game of accountant basketball. They usually start as being pretty relaxed, but as the alcohol starts flowing the trash talking picks up and it usually ends with him trying to break my ankles and make me fall on my ass or me dunking over him. And then we find a way to hurt ourselves instead.
America is just the best.