Welcome to the 2019 Off Tackle Empire NCAA Tournament Primers! Over the next two days, we plan to preview the bracket and draw for each Big Ten team in the Big Dance.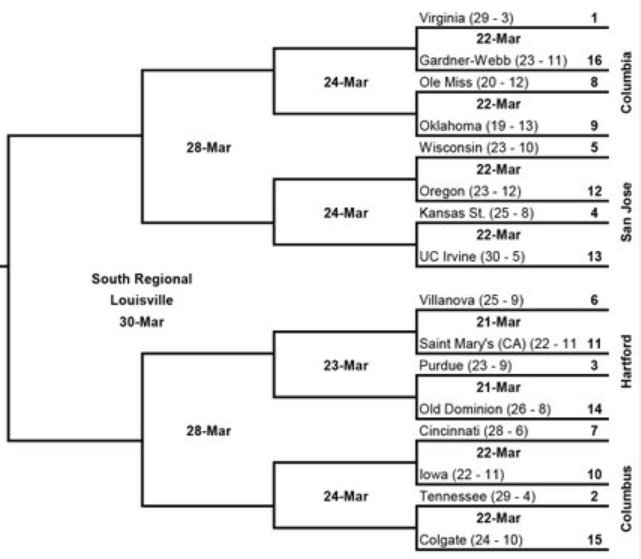 Round 1: vs. [12] Oregon Ducks
Round 2: vs. [4] Kansas State Wildcats, [13] UC Irvine Anteaters
Sweet 16: [1] Virginia Cavaliers, [16] Gardner-Webb Bulldogs, [8] Ole Miss Rebels, [9] Oklahoma Sooners
Regional: [2] Tennessee Volunteers, [15] Colgate Raiders, [7] Cincinnati Bearcats, [10] Iowa Hawkeyes, [3] Purdue Boilermakers, [14] Old Dominion Monarchs, [6] Villanova Wildcats, [11] St. Mary's Gaels
Wisconsin vs. Oregon
SAP Center, San Jose, CA
Friday, March 22 | 3:30pm | TBS
Boilerman Breakdown: If you're looking for a sexy upset pick, have I got a deal for you. Given the fact that Oregon has caught fire down the stretch and the game is being played in the Western time zone, more than a few talking heads have pointed to this game as the usual 12 over 5 upset.
Offense:
At first thought, I made the mistake of thinking Oregon played up-tempo. Boy, is that wrong. Oregon 328th in pace, plays at almost the same pace as Wisconsin (332nd). The big difference is they don't have the same efficiency rating, coming in at 108th. Aside from that, they a very balanced team. They're average when it comes to most of the major metrics. Oh, but they do hit their free throws (sorry, not sorry, Badger fans).
Defense:
What may surprise most people are the Ducks' defensive numbers. They match up just as well as the Badgers' metrics in most of the major categories. Since a loss to UCLA, where they gave up 90 points, they have allowed over 70 points just once in their last 8 games. If you're betting this one, forget the spread. Bet the under.
First Look:
Give us your initial impressions of their draw.
MC ClapYoHandz: I swear there's some sort of mandate within the Selection Committee that forces them to always match Wisconsin up with Oregon, Baylor, and/or Kansas State in every tournament. I feel like I'm watching re-runs every year lately.
Anyways, this draw isn't great; Oregon had Top 10-15 aspirations/talent and underachieved most of the year but they've started hitting their stride. Virginia is Wisconsin with better players and coaching. C'est la vie.
MNW: What a yawner of a regional. Virginia, Purdue, K-State, Irvine, and St. Mary's all prefer to play at a glacial pace, and the badgers are obvious no different. But! There's a fair chance wisconsin can make some noise, as they're functionally a whiter K-State that's better on offense, and that could mean a Sweet 16 or better. Assuming they get past Oregon.
Beez: It sure seems like Wisconsin plays Oregon, KState, and UVA kind of a lot, but this region shouldn't terrify Wisconsin, although it's not great either. If Oregon is actually at or near preseason expectation-level good, uh oh. If they just seem that way cuz lol the Pac12 was horrible? Not so great.
Wisconsin has already lost to UVA this year, and while the final score made it look close-ish, the game never felt close. If Trice and Davison are going to continue to not be able to make 3s, Wisconsin isn't getting past UVA, let alone Oregon or KState.
Stew: Fuck wisconsin. MNW is right, that college basketball may be better off if most of this entire regional just went away.
B1G Scouting Report:
Has your team played anyone in their pod? Anything to look out for?
MC: Wisconsin lays claim to a 20-point win over potential Sweet 16 opponent Oklahoma and a 7-point loss to slowbro Virginia (a 7-point loss for Wisconsin-Virginia maps out to a ~25 point loss in a normal game). Should Wisconsin make it to the Elite Eight, they could meet conference foes Iowa (2-0) or Purdue (0-1).
MNW: I watched the Marquette-Kansas State game in December, and even with Dean Wade, the Wildcats struggled to get into their game against a team that liked to push the pace. MY Marquette Golden Eagles pushed the pace with Markus Howard (who had 45!), got to the line, and forced K-State to play their game.
Beez: MC's got it under control here.
Stew: Iowa played Oregon in the non-con in the Empire 2K Classic, but that was when Bol Bol was still playing, and they're a different team without that kind of a talent out there. Still, they should be wisconsin, if only because everyone should beat wisconsin.
UPSET ALERT:
What's the most likely possible upset to involve this team?
MC: Oregon is a trendy upset pick for Round 1 (this is not the second round and I will not call it that), and that seems fair. Wisconsin has definitely had the better year, but they haven't been clicking lately and Oregon has found their stride. Wisconsin should still be the favorite but this has the feel of one those stereotypical 5/12 matchups.
MNW: Yep, depending on the bracket, I'm taking Oregon. But I also would take wisconsin in a hypothetical K-State/wisconsin matchup.
Beez: The two cheater choices are Oregon, as the trendy pick, and KState, as the "technically it's an upset" pick. Wisconsin seems like a short, better Oregon, but I also haven't felt good about a Wisconsin win since that time they got up 23 against Ohio State and I turned the game off.
Stew: Because god is dead, and we live in the worst timeline, I'm just going to assume that wisconsin gets to the sweet 16. But hopefully Oregon can save us at least one small mercy.
How far will they go?
MC: This is tough to call. Unless Virginia gets knocked out early, which they are hilariously good at doing, Wisconsin's ceiling is the Sweet 16. They are not getting past Virginia. The Oregon upset threat is real as well; when Wisconsin went on their magical Final Four runs they knocked out some of the best Oregon teams in recent memory along the way. I expect Oregon to be fired up about that one.
For whatever unfounded reason, I am blindly assuming Wisconsin would get past Kansas State and putting no thought into that game (so naturally that will be the loss). I will say Wisconsin is bounced in the Sweet 16, albeit with pessimism about Oregon and optimism if Virginia falls early.
MNW: See above. I'll take the badgers either out in the first round or out in the Sweet 16.
Boilerman: Welcome to 4/5 Seed Hell. Either in the Round of 64 or Sweet 16.
Beez: Since the 2000 Final Four appearance, Wisconsin has lost in the first round three times (twice to a lower seed) in 18 tourney trips. In that same time frame, they've only failed to make it as far as their seed dictates three times. Doesn't mean they'll make it out of the first round this year, but I think they will, I think they'll get by KState, and I think they'll lose by 15 to UVA. Sweet Sixteen for the fifth tourney appearance in a row and fifth time in six seasons.
Stew: Hopefully to hell.
Poll
How far does bucky make it?
This poll is closed
352 votes total
Vote Now