Welcome to the 2019 Off Tackle Empire NCAA Tournament Primers! Over the next two days, we plan to preview the bracket and draw for each Big Ten team in the Big Dance.
[10] Iowa Hawkeyes NCAA Tournament Primer
Columbus Pod | South Regional (Louisville)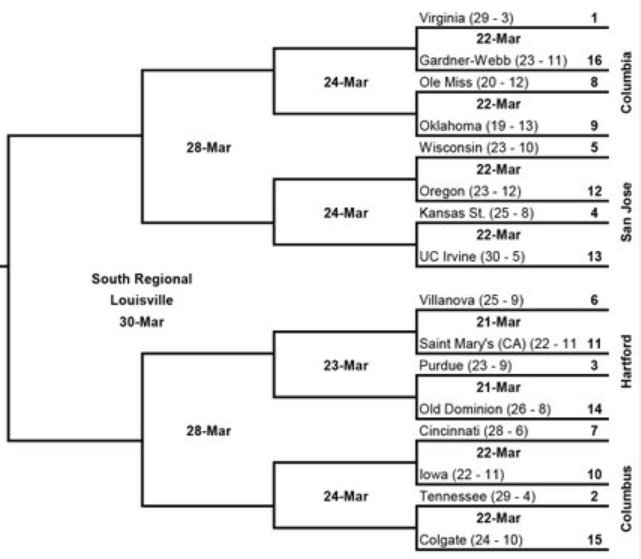 Round 1: vs. [7] Cincinnati Bearcats
Round 2: vs. [2] Tennessee Volunteers, [15] Colgate Raiders
Sweet 16: [3] Purdue Boilermakers, [14] Old Dominion Monarchs, [6] Villanova Wildcats, [11] St. Mary's Gaels
Regional: [1] Virginia Cavaliers, [16] Gardner-Webb Runnin' Bulldogs, [8] Ole Miss Rebels, [9] Oklahoma Sooners, [5] Wisconsin Badgers, [12] Oregon Ducks, [4] Kansas State Wildcats, [13] UC Irvine Anteaters
Iowa vs. Cincinnati
Nationwide Arena, Columbus, OH
Friday, March 22 | 11:15am | CBS
Boilerman Breakdown: So, the committee wants you to play a team from Ohio in their home state. Nah, nothing wrong with that, right?
Offense:
They don't shoot well but the Bearcats do two other things very well. They take care of the ball and they clean up the offensive glass. Given Cincy's slow tempo (ranked 338th), they're going to force Iowa to play half court defense for the full shot clock. That points right at Iowa's poor defensive efficiency. Welcome to Cronin-ball, where the score is almost always in the 60s.
Defense:
Here's your real contrast in style. Cincinnati loves nothing more than to grind the game to a halt whereas Iowa tries to push tempo. Outside of average perimeter defensive numbers, the Bearcats defend inside the arc and force turnovers very, very well. If Iowa wants to win, they need to take care of the ball and get to the free throw line, where they have a decided advantage.
First Look:
Give us your initial impressions of their draw.
MNW: I could see Iowa getting by Cincy, but Tennessee is in another class entirely. Still, unless Iowa kept their momentum to a 6-seed or collapsed all the way to an 11-seed, I wouldn't have had them as a Sweet 16 club, anyways.
Boilerman: Location concerns aside, this is not an ideal draw for a team trying to get their minds right. Cincinnati is underseeded in my opinion and Tennessee has too much talent against Iowa's questionable defense.
Stew: Goddammitall! Iowa has to play Cincy less than 2 hours from their home. And this is a horrible match-up to begin with. Tyler Cook is going to turn the ball over, and over, and over. His TO rate is a ridiculous, and oh, look, that's exactly what Cincy does well.
I'm not 100% sure that Iowa's late season collapse is over, they blew out Illinois, but then got blown out by Michigan. But Michigan also blew out Minnesota, so.../shrug. Iowa's best chance is to get Cincy's front court into foul trouble, if they can do that, then they've got a some hope, as Cincy only has 3 front court players that average more than 10 minutes a game. That's pretty much it, that's the path.
B1G Scouting Report:
Has your team played anyone in their pod? Anything to look out for?
MNW: Ohio State leaned on Cincy in a pretty stunning way to open the season--though, in retrospect, this was high-water mark OSU—with Kaleb Wesson handling the Bearcats inside. There are no surprises to Mick Cronin's team: Cincy forces turnovers, locks you down on defense, and gets to the line an impressive amount.
They did, however, allow Ohio State to shoot decently from deep, a problem that lasted season-long (the Bearcats were below-average, allowing opponents a 35% clip from three). If Iowa can get Jordan Bohannon (or, hell, Nicholas Baer or Isaiah Moss) spotted up from the corners or around the arc by moving the ball, there's a chance to keep Cincy off-balance.
UPSET ALERT:
What's the most likely possible upset to involve this team?
MNW: An upset of Cincy. And that's it.
Boilerman: Maybe an upset of Cincy. They're not getting past Tennessee.
Stew: Yuuuuuuuup
How far will they go?
MNW: They'll be back in Iowa City in time for $2 shots at Union.
Boilerman: One and done.
Stew: The good news is that they'll be spending as little time in Ohio as possible.
Poll
How far will Iowa go?
This poll is closed
275 votes total
Vote Now