Welcome to the 2019 Off Tackle Empire NCAA Tournament Primers! Over the next two days, we plan to preview the bracket and draw for each Big Ten team in the Big Dance.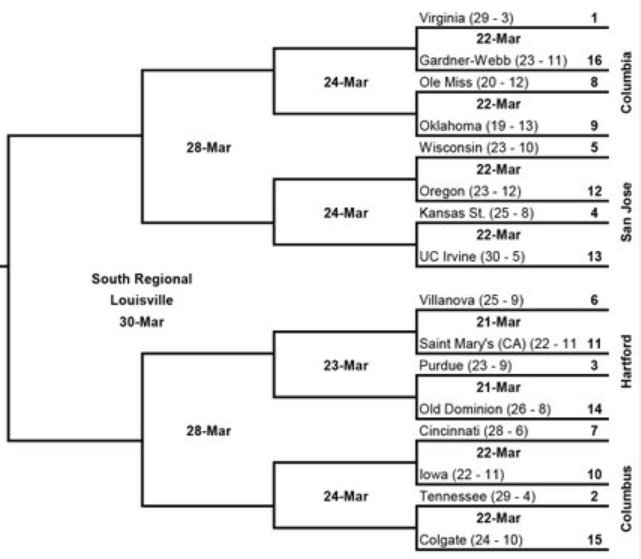 Round 1: vs. [14] Old Dominion Monarchs
Round 2: vs. [6] Villanova Wildcats, [11] St. Mary's Gaels
Sweet 16: [2] Tennessee Volunteers, [15] Colgate Raiders, [7] Cincinnati Bearcats, [10] Iowa Hawkeyes
Regional: [1] Virginia Cavaliers, [16] Gardner-Webb Bulldogs, [8] Ole Miss Rebels, [9] Oklahoma Sooners, [5] Wisconsin Badgers, [12] Oregon Ducks, [4] Kansas State Wildcats, [13] UC Irvine Anteaters
Purdue vs. Old Dominion
XL Center, Hartford, CT
Thursday, March 21 | 8:50pm | TBS
Boilerman Breakdown: So, you like size? Has this game got something for you. B1G fans are all aware of 7'3" Matt Haarms but Old Dominion has a couple of 7-footers themselves.
Offense: Umm, yeah, those 7-footers? They don't seem to use them on offense. ODU features one of the worst 2-point percentages in the land. They're okay from beyond the arc, hitting at a 35% clip. However, they're almost Wisconsin bad from the charity stripe. Given Purdue's defensive numbers, the Monarchs may have an issue scoring the ball.
Defense: This may very well be where those 7-footers come in handy. When it comes to defense, ODU puts out some good rankings, going 48th in defensive efficiency, 14th in effective FG%, and 7th in 2-point percentage. Given Carsen Edwards' struggles (and a previously undisclosed back injury), Purdue is going to need to rely on Ryan Cline to have his jumpshot on point and Matt Haarms to force the issue down low and get ODU's bigs into foul trouble.
First Look:
Give us your initial impressions of their draw.
Boilerman31: I'll admit it, I'm elated the committee kept Purdue out of 4-seed Hell.
The Boilers get a decent test against an Old Dominion squad that features a decent defense. Survive the grind and a likely rematch of last year's Gavitt Games' thriller awaits. While this Villanova team is nowhere near the same team that won the national title, there's plenty of threats on the Big East champions' squad to make Purdue a second-round victim.
Make it through there and then it's onto Louisville and a quick drive down I-65. The road is challenging but if Carsen Edwards can make it back into midseason form, the road sets up nicely for a shot at the Boilers first Final Four since 1980 (thanks for the expectations, Seth Davis).
MNW: Not only did Purdue get out of that 4-seed hell, but they got a draw against a 2-seed in Tennessee who is eminently beatable with a hard-nosed defensive performance like Auburn provided in the SEC Tournament. Admiral Schofield is damn good, and the athleticism of Kyle Williams should challenge Haarms, but I wouldn't sneeze at Purdue in the Elite Eight. From there it's Virginia, and who knows.
B1G Scouting Report:
Has your team played anyone in their pod? Anything to look out for?
MNW: There's a lot of variety in this region. You've got the defense and glacial pace of Cincinnati and St. Mary's; you've got the shooting and grappling of Villanova and Tennessee; you've got Iowa.
I watched Marquette play Nova a couple times this year, so there's something to worry about. Watching Purdue attack Eric Paschall inside would be interesting, but Nova--while playing at a similar pace as Purdue--would also stretch them out around the perimeter in different ways. The Wildcats don't run a deep bench, though, so if Purdue can force a few more turnovers than usual, I'm not as worried about this as I would normally be.
UPSET ALERT:
What's the most likely possible upset to involve this team?
Boilerman31: It's gotta be Villanova. First off, the game is in Hartford, which isn't too far away from Philly, so I'd expect a partisan crowd. Secondly, these guys are still the defending champs. There's no reason to believe they aren't primed for another run. Finally, it all rides on Carsen Edwards' back. Literally. If his shots aren't falling, it could be a long night for Purdue.
MNW: Yep, it's Nova.
How far will they go?
Boilerman31: My heart says Final 4. My brain says Sweet 16.
MNW: I've got Purdue to the Sweet 16, as Tennessee is my Final Four pick out of this region.
Poll
How far will Purdue go?
This poll is closed
432 votes total
Vote Now