Welcome to the 2019 Off Tackle Empire NCAA Tournament Primers! Over the next two days, we plan to preview the bracket and draw for each Big Ten team in the Big Dance.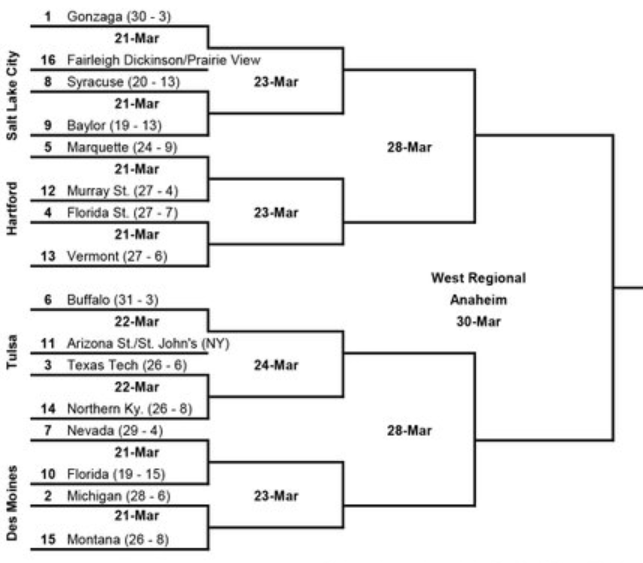 Round 1: vs. [15] Montana Grizzlies
Round 2: vs. [7] Nevada Wolf Pack or [10] Florida Gators
Sweet 16: [6] Buffalo Bulls, [11] Arizona State Sun Devils, [11] St. John's Red Storm, [3] Texas Tech Red Raiders, [14] Northern Kentucky Norse
Regional: [1] Gonzaga Bulldogs, [16] Fairleigh Dickinson Knights, [8] Syracuse Orange, [9] Baylor Bears, [5] Marquette Golden Eagles, [12] Murray State Racers, [4] Florida State Seminoles, [13] Vermont Catamounts
Michigan vs. Montana
Wells Fargo Arena, Des Moines, IA
Thursday, March 21 | 8:20pm CT | TNT
Boilerman Breakdown: If you're a Michigan fan, you're probably thinking, "These guys again?" Can't say I blame you. Enjoy your rematch.
Offense: Montana has one of the highest eFG% in the KenPom rankings at 56.6% (6th in NCAA). The strange thing is, it doesn't translate to their offensive efficiency numbers as they only rank 115th. They hit 3 pointers at a 38% clip, so they're pretty good from the perimeter, which would be cause for concern except Michigan has one of the best perimeter defenses with a 3-point defense allowing only 28.9%. Another glaring issue is their team free throw percentage, not that it matters much as they rank 222nd when it comes to free throw rank.
Looking through their schedule, the number 77 becomes key. The Griz are 7-8 when scoring 77 or fewer points but are 19-0 when scoring above that key number. Given Michigan's defense, I'd feel okay about that.
Defense: First and foremost when looking at Montana's defense, they let their opponents get to the free throw line...a lot. Looking through the number, there isn't anything that moves the needle. Outside of the FT Rate, they're rather average.
However, they do play very small. They only have two guys over 6'7" that regularly contribute. Look for Michigan's bigs like Jon Teske to have a field day.
First Look:
Give us your initial impressions of their draw.
MNW: A lot of landmines, but a clear path to another Final Four.
Look, I mean, there's reason to be fearful of Nevada. Of Buffalo. Of Texas Tech. But...there's a lot of new money, mid-majors, and Gonzaga in this bracket. It's the Wild...ohgoddamnit...West, as far as I'm concerned.
Boilerman31: There's just a ton of athleticism in this bracket but also plenty of questions. Nevada could have a potential injury situation on their hands with Jordan Caroline being held out of the MWC tournament final. Buffalo brings some sexy MACtion to the table and Texas Tech and that defense should strike fear into plenty of hearts.
Assuming the chalk holds, the potential of a Michigan - Gonzaga Regional final is just more than my brain can comprehend at the moment. (Also, if you're a betting person, take the over in the Marquette-Murray State tilt. There's potential for a boatload of points in that one.)
B1G Scouting Report:
Has your team played anyone in their pod? Anything to look out for?
MNW: No, but I'm happy to tell you about Marquette and Markus Howard--hey wait where are you going come back
Boilerman31: Must've been in that Seton Hall handshake line.
UPSET ALERT:
What's the most likely possible upset to involve this team?
MNW: I'm not terrified (on Michigan's behalf) of Florida, but Nevada, if they can set the tempo and draw some fouls, could be a real doozy for the Wolverines.
How far will they go?
MNW: I have Michigan beating [HOMER ALERT] Marquette to go to the Final Four. Please do not at me.
Boilerman31: I have Michigan bowing out in the Elite 8 but there's a real possibility they don't make it past Texas Tech in the Sweet 16.
Poll
Michigan? Final Four? Your thoughts?
This poll is closed
Ho hum, another Final Four

(57 votes)

Always the bridesmaid

(10 votes)

Finally the bride

(23 votes)
204 votes total
Vote Now